SOFIA, 29 May 2005 (RFE/RL) -- The Romany women from Varshets, a spa town in western Bulgaria, are some of the 200 project participants from various parts of the country and from different ethnic backgrounds. Despite some improvement in the living conditions of Roma during communism, their circumstances in present-day Bulgaria are not much different from that of their brethren in Hungary, Romania, or Slovakia: high unemployment, crippling poverty and a biased society that largely shuns them as outcasts.
The Streets We Live In
Diana Ivanova, who is a moderator for EU&me project in Bulgaria, said the obvious inequality between the Romany minority and "regular" Bulgarians became an inspiration for the project's theme -- the streets we live in.
"The street gives an equal start both to Roma and to participants of other ethnicities," Ivanova said. "This was our idea -- each participant to have an equal start. We realized that it was a far shot to gather together Roma and Bulgarians and to expect them to have an equal communication because it is not equal. It is not equal by default."
Ivanova says they chose to talk about the streets we live in because they believe that if we look at streets carefully, we can learn a lot about ourselves and about our expectations for change. Talking about our streets is a way of talking about the EU in an everyday language, she says.
"The [idea of the] EU has turned into a civilization project that is unusual to talk about in Bulgaria," she said. "The EU is talked about either in abstract language or it is talked about only by politicians, journalists, experts, intellectuals. At the same time many individuals' personal point of view is missing. People feel uncomfortable expressing what they really feel about the EU accession."
Give Them A Camera
Varshets is not a big town, but it has an entirely Romany enclave, the so-called Gypsy Quarter. Project participant Snezhana Vladimirova is a 29-year-old mother who lives there with her five children.
Vladimirova said she initially was not interested in the project, but after meeting with the organizers and being given a simple Chinese-made camera, she took the idea to the heart.
"We are Roma," she said. "We are not so well-informed. When people are talking about the EU, that we are going to join, we don't have a clue what all this means. After we met with the EU&me organizers, we began step-by-step to get an understanding, to be aware what all this means. That's why we got interested in the project and decided to participate."
Curiosities emerged during the project. For example, it turned out that Romany women knew the streets of Varshets much better than the local Bulgarians. Some attributed it to the fact that all the street cleaners in town are Roma.
But even for the few low-skill and low-paying jobs available to them, the Romany women say they have often to fight tooth and nail. Recently, a factory announced 30 job vacancies and some of the Varshets Roma decided to apply. Ivanka Atanassova, an EU&me project participant and an unemployed mother of two, was one of them.
"We hope that if we enter the EU, things will improve," Ralitsa Naydenova said. "There will be jobs. We will be able to provide a better life for our children, because our children do not have all the things any normal child needs. We think, we hope, we really hope, that the EU will give us a better future."
"I've been looking for work at both plants that are here, in Varshets, any work -- janitor, toilet cleaner -- just to get a job," Atanassova said. "When I got to the gates of the spare-parts plant, I was told that 'gypsies' were not welcome. I asked the guy at the gates: 'Well, so what if I am a gypsy? Is there anything wrong with me? Do I look not right?' The guy said: 'There is nothing to explain here. I think you understood me. For gypsies, there is no work here.'"
'Human And Appreciated'
The Romany women from Varshets say that when the EU&me team first approached them, it seemed hard to believe that someone would take an interest in them as creative beings capable of producing images and words that are now part of an exhibition in Bulgaria's capital, Sofia. It made them feel, they say, human and appreciated.
Ralitsa Naydenova, another project participant and an unemployed mother of three, says Bulgaria's possible accession to the EU gives her hope for a better future.
"We hope that if we enter the EU, things will improve," Naydenova said. "There will be jobs. We will be able to provide a better life for our children, because our children do not have all the things any normal child needs. We think, we hope, we really hope, that the EU will give us a better future."
After completing their assignments, the participants from Varshets gathered at a local school gymnasium and each read aloud her street story. Their film was developed, scanned and the best shots were selected for the exhibit, which runs through May 28 at the British Council's office in Sofia.
My Street
FACES AND VOICES: Below is a selection of photographs and excerpts from the project essays submitted by Romany women from Varshets (texts and photographs used with the permission of the British Council/Sophia):
(British Council/Sofia)
SNEZHANA VLADIMIROVA: My street does not look very good. It is not the street I dream about. Our plot is too small. I don't have the garden I dream about. Our neighbors are too close to us, we are only separated by a wire-net. We are on good terms with one of the neighbouring families and on bad terms with the other. Our house has three rooms. Three families live in it. The roof is not in very good condition. The basement is full of water. My neighbors live in similar conditions. This is not the street we dream about.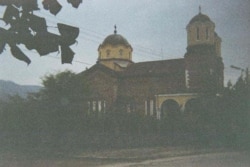 (British Council/Sofia)
RALITSA NAYDENOVA: I love my street, I grew up here, but… people in the old days were different. They helped each other and struggled for a better life in the neighbourhood. But everybody has withdrawn to their shell now. My neighbours and I don't go beyond saying "Hi" to each other. The most impressive buildings in my street are the baking factory and two little God-forsaken houses which are falling apart, waiting for their last hour. Not far from my house is the largest Orthodox church in northwestern Bulgaria -- the St. George Church. Baba Ruska comes to the bell tower at 7:00 in the morning to ring the church bell and announce the exact time to the town. Life in my street is neither black, nor white. If you are sad, there is always someone to make you laugh; if you are happy, there is always someone to make you cry.


(British Council/Sofia)
IVANKA ATANASSOVA: I live on the main street, Republica. It used to be called Gheorghi Dimitrov during communism. Living here is like living at the wrong time at the wrong place. The drivers hate it because the many holes in it ruin their cars; the sweepers hate it because of the billions and billions of tree leaves they have to sweep every day. Stray dogs cross it this way and the other, tourists curse when they find themselves stepping into the excrement of horses, goats, and other animals grazing nearby. My street is the witness of base passions, of poverty, misery, decorum, of love, hate, children's laughter, friendship, broken relationships, the tears of rainy days, and gossip – the favorite activity of most of us, of hypocrisy...

HOPE AND FEARS: Participants in the British Council project in Bulgaria were asked about their hopes and fears concerning possible EU membership. Among their HOPES, they mentioned: There will be more jobs and the people from my neighbourhood who now work abroad will be back; There will be greater tolerance towards the Turkish and Roma minorities in town; People will observe laws and rules which are common to all; There will be a better, more effective city administration; The streets will be cleaner, the parks will be greener; The properties in the Roma neighbourhoods will be legalised, there will be sewage for the houses, electricity and asphalt on the streets; and There will be greater tolerance of substance-dependent people.
Among their FEARS, participants listed: It will be a long and difficult adjustment and older people, like my father, won't be able to cope; We'll lose our Bulgarian identity, we'll be like everybody else; Bulgarians will become second-class people who work for foreign investors; The nuclear power plant in Kozlodui will shut down and the town will die out; We will be unprepared to live alongside immigrants from the East who will want to live in Bulgaria; There will be greater alienation between people because of job competition; and There will be greater segregation between Roma and Bulgarian people; Romany people will be pushed out of the cities.
MORE: Read more about the project at http://www.moyataulitsa.net.

SUBSCRIBE
For a regular review of civil-society developments throughout RFE/RL's broadcast region, subscribe to "RFE/RL (Un)Civil Societies."