Romania: President Faces Impeachment Referendum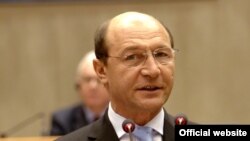 Basescu has alleged that oligarchs control Romanian politicians (official site) May 18, 2007 (RFE/RL) -- Romania's President Traian Basescu faces an impeachment referendum on May 19 following his suspension by parliament on charges of power abuse.
The political crisis has sparked concerns in the European Union, which Romania joined in January, about the future of judicial reforms and the fight against corruption in the country.
The crisis has also led to unhappiness among Romanians, many of whom fear that it is reducing their chances of reaping quick benefits from EU membership.
The crisis is seen by some as a consequence of the strong personal animosity between the president and his former ally, liberal Prime Minister Calin Popescu Tariceanu.
However, while it is clear that the two dislike each other to the extent that they exchanged strong words live on television, there is much more at stake behind the dispute.
Political Influence
Basescu, an outspoken former sea captain and mayor of Bucharest, has denounced repeatedly the political influence of what he calls "oligarchs" -- people who made huge fortunes by enjoying unfair advantages from the state.
Basescu says oligarchs now control politicians, including the prime minister. He told RFE/RL there is a danger that politicians may be turned into puppets.
"There is a risk in Romania now that decision making may be left to unelected people," he said, "while politicians turn into monkeys who act on orders from some very rich people."
Tariceanu, a stylish, younger politician who belongs to the new, post-communist generation, told RFE/RL that Basescu himself is an exponent of the old regime.
"There is a risk in Romania now that decision making may be left to unelected people, while politicians turn into monkeys who act on orders from some very rich people." -- Basescu
"You should take into account," he said, "that today's suspended president is a former member of the Communist Party, a profiteer of the communist era, a member of the 1990s [ex-communist] National Salvation Front [FSN] who subsequently migrated to the left with his party, then recently completed an about-turn and became [members of the pan-European conservative Christian-democratic] Popular [Party]."
Basescu was suspended by parliament on April 20 with a large majority of 322-108 on grounds that the president violated the constitution.
The move came despite a Constitutional Court ruling that the charges against Basescu were groundless. The charges included fomenting political instability, putting pressure on the judiciary, and interfering in favor of interest groups.
Although the ex-communist opposition initiated the suspension procedure, it enjoyed the support of the governing Liberal Party (PNL), as well as other smaller parties.
Tariceanu, who is the PNL leader, in April fired all ministers belonging to Basescu's former party, the Democrats (PD), and formed a minority government with the ethnic Hungarian UDMR party.
Tariceanu has repeatedly accused Basescu of interference in the government's business. The ex-communist opposition, grouped in several parties, has been uneasy about the president's drive against corruption.
Analysts say the rupture between Basescu and his former liberal allies appears to be the result of the president making good on his campaign promise to reform the judiciary and clean up widespread corruption.
"Traian Basescu has taken seriously the promise he made in his inaugural speech," said professor Vladimir Tismaneanu of Maryland University in the United States, a Romanian affairs expert.
"He promised he would cooperate with the parliament and the government in the fight against corruption, and against the destructive effects of endemic corruption on the state institutions' credibility. From this point of view, Traian Basescu has kept his promise. The fact that the government or some members of the government have decided to go a different way speaks about the choices they've made."
Tismaneanu says that another action initiated by Basescu -- the opening of the former political police's files and their transfer to a study committee -- generated panic among those who are connected one way or another to the files.
'Clarification' In Romanian Politics
Some say the ongoing political crisis has generated instability and dented Romania's chances for gaining quick benefits from its new EU membership.
Basescu, however, sees the current situation as a necessary step toward a long-expected clarification in Romanian politics.
"If I win the referendum," he told RFE/RL, "that will mean that the parliament must take into account my options and turn them into reality for Romanians. If the parliament wins the referendum, and I will be removed, it will mean that I was wrong in sticking to my options. And I don't think I was wrong."
Analyst Tismaneanu says that the impasse has been a result of a fundamental collision between Basescu's modernizing vision and a "retro" vision represented by the political forces which pushed for Basescu's suspension.
Tismaneanu believes the current crisis is an inevitable step Romania has to take to become a more mature democracy.
"The referendum is clearly indicative of the fact that Romania is currently experiencing a crisis," he said, "and I see it as a crisis of democratic growth -- a crucial moment defined by a great political, cultural, and moral battle. What Traian Basescu is trying to achieve is a political rebalancing. If, on the one hand, the center-right pole will unite around an authentic liberal project, and on the other hand, a new, de-bolshevized center-left pole will appear, then Romania will have two big political parties."
According to the latest opinion polls, Basescu is headed for a landslide victory in the referendum, with up to 80 percent of the 18 million eligible voters expected to vote in his favor.
Should he win, Basescu has already set the stage for his next face-off with parliament, announcing his intention to pursue constitutional changes.

There is no minimum turnout required, as the parliament on May 3 amended a constitutional provision that required a minimum turnout of 50 percent plus one.
(RFE/RL's Romania-Moldova Service contributed to this report)