Russian Opposition March Ends Peacefully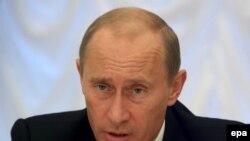 March of Dissent protesters seek Putin's resignation (epa) May 19, 2007 (RFE/RL) -- More than 100 demonstrators have rallied in the southern Russian city of Chelyabinsk to protest what they call President Vladimir Putin's authoritarian policies, RFE/RL's Russian Service reported.
One of the organizers of the March of Dissent, Oleg Stifonov, told RFE/RL that the rally proceeded peacefully.
"Some 150 people took part in the event," Stifonov said. "The slogans were standard for all Marches of Dissent -- demands for the resignation of President Putin and other social slogans. The police behaved absolutely correctly."
No incidents or arrests were reported during the rally, which was organized by an antigovernment coalition known as Other Russia.
On several previous occasions in other Russian cities, such marches have been forcefully broken up by police.
Protesters marched with their banners folded due to an official ban on the rally.
A sanctioned opposition march was held without violence May 18 during a European Union-Russia summit in the city of Samara, but police prevented opposition leaders from reaching the venue.
(with material from Interfax)