The provision is contained in a series of amendments passed by the Kazakh parliament last week.
As carried by the official media, the constitutional changes state that presidents are elected for a maximum of two terms of five years each. But they also state that this limitation does not apply to the first president of the post-Soviet republic. The first president is Nazarbaev himself -- the man who led Kazakhstan to independence from the Soviet Union, and who has been president ever since.
The amendments do not suspend presidential elections. These will apparently take place as before; the difference is that Nazarbaev will be able to participate.
Pervasive Influence
Regional analyst Matthew Clements, of Jane's strategic information organization, says the move is an extension of Nazarbaev's pervasive influence over Kazakh life.
"I think it's a continuation of Nazarbaev's policies, which have seen him take very strong control over Kazakh politics," Clements said. He added, however, that the amendment "was produced with a number of other amendments to the constitution, which are aimed at showing the West [that Kazakhs] are committed to democracy."
Clements notes that these other amendments -- which are being portrayed as pro-democratic -- include allowing parliament to play a bigger role in appointing the prime minister, and cutting the presidential term from seven years to five years.
Kazakhstan is emphasizing its democratic development, with an eye on the 2009 chairmanship of the Organization for Security and Cooperation in Europe (OSCE), which Nazarbaev has set his sights on.
Clements does not believe the extension of Nazarbaev's powers will seriously affect Kazakhstan's standing in the world -- for a very practical reason. "I think that the outside powers' interest in Kazakh mineral reserves are going to overtake this [concern] anyway," he said.
With the world's energy supplies in a state of uncertainty, the international community will not want to turn away from oil-rich Kazakhstan.
There is no word on whether Nazarbaev, who is 66 years old, plans to make use of the new constitutional provisions. His present term expires in 2012, but there is no obvious successor to take the reins of power in the largest Central Asian republic.
Exporting Kazakhstan's Energy
Exporting Kazakhstan's Energy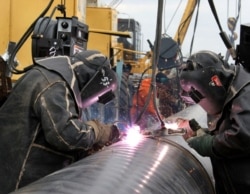 Work on a Kazakh pipeline (TASS file photo)


PRESSURE FROM THE KREMLIN? Columbia University political science professor Kimberly Marten told an RFE/RL briefing that Russia seems to be using its control of gas pipelines in the former Soviet Union to pursue its goals in Kazakhstan.
LISTEN
Listen to the entire briefing (about 60 minutes):

Real Audio
Windows Media
RELATED ARTICLES
The Emerging Post-Soviet Petrostates
Nazarbaev, Merkel Discuss Energy, Bilateral Ties
Nazarbaev Talking Energy, Economic Cooperation On China Visit
ARCHIVE
RFE/RL's coverage of
Kazakhstan
.