White House Says Bin Laden Ordered Iraq Plots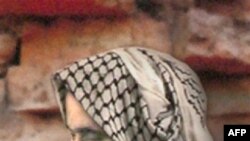 The Jordanian-born al-Zarqawi was wanted for a string of deadly kidnappings and terrorist attacks (file photo) (AFP) May 23, 2007 -- A senior U.S. official says Osama bin Laden ordered Al-Qaeda's leader in Iraq, Abu Mus'ab al-Zarqawi, to form a cell in 2005 to plot attacks outside of Iraq and make the United States his main target.
The newly declassified intelligence was made public May 22 by Frances Townsend, President George W. Bush's adviser for homeland security.
"The intelligence community tells us that in January of [2005] bin Laden tasked [al-]Zarqawi, who has been in Iraq, to form a cell to conduct attacks outside Iraq, and then frankly America should be his number one priority," she told reporters.
"We know from the intelligence community that Zarqawi welcomed the tasking and claimed he had already had some good proposals," she said.
Townsend declined, however, to specify any potential targets and would not say whether the plotters had advanced beyond the discussion stage.
Al-Zarqawi was killed in a U.S. air strike in June 2006.
(Reuters, AFP, AP)