Riot police detained about 30 people as they tried to present a petition signed by some 40 European lawmakers asking Moscow Mayor Yuri Luzhkov to lift a ban on a gay-pride march.
Luzhkov has called gay marches "the work of Satan."
The banned march was aimed at marking the 14th anniversary of the decriminalization of homosexuality in Russia.
'Rights Not Respected'
Among those detained today were parade organizer Nikolai Alekseyev; veteran British gay-rights campaigner Peter Tatchell; Volker Beck, a member of the German parliament; and Marco Cappato, an Italian member of the European Parliament.
"We have asked President [Vladimir] Putin to respect the rights of Russian citizens, their right to speak out, and whatever they want to tell to the public if they do it peacefully," Beck said. "And we are really criticizing that these rights are not respected at all, actually, in the Russian Federation."
A Moscow police spokesman said most of those detained have been released.

Pop Singer Assaulted
Richard Fairbrass, a singer with the British pop group Right Said Fred, was punched in the face and kicked by antigay activists while speaking to Reuters.
Yulia Volkova and Lena Katina of the Russian pop group Tatu also appeared at the rally, but left after their car was pelted with eggs.

Many of those who were hostile to the protest carried icons or other insignia of the Russian Orthodox Church.
Intolerance of homosexuality is widespread in Russia.
Police detained more than 100 people at a banned gay-rights demonstration in Moscow in 2006.

(compiled from agency reports)
Rising Russian Nationalism
Rising Russian Nationalism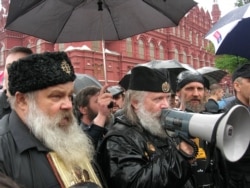 Orthodox believers and nationalists heckling a gay-rights rally in Moscow in May 2006 (RFE/RL)
A THREAT TO CIVIL, RELIGIOUS LIBERTIES: Several leading experts told a briefing hosted by RFE/RL and the U.S. Commission on International Religious Freedom that several mounting trends in Russia are posing a growing threat to human rights, especially for members of the country's ethnic and religious minorities.
LISTEN
Listen to the entire briefing (about 90 minutes):

Real Audio
Windows Media
RELATED ARTICLES
Why Putin Is Going To The Vatican
Bishop Assails Russian Orthodox Church

A thematic webpage devoted to issues of religious tolerance in RFE/RL's broadcast region and around the globe.