City authorities say they recover 20 to 30 corpses from the city's streets almost daily.
In other Iraqi violence today, two people were killed when gunmen ambushed a market in northern Baghdad.
In a separate attack, gunmen shot dead two people on the outskirts of the capital.
North of the capital, two senior police officers were killed in the city of Samarra.
In another incident, U.S. forces say they rescued 41 Iraqi civilians from an Al-Qaeda hideout northeast of Baghdad.
A U.S. spokesman, Major General William Caldwell, said some of the freed Iraqis showed signs of torture.
He said they were transported to medical facilities for treatment. Caldwell said some among the 41 had been held as long as four months.
Meanwhile, the United States military has reported the deaths of eight more U.S. soldiers in attacks and fighting in Iraq, bringing to at least 100 the number of U.S. troops killed so far this month.
The casualty rate is putting May on course to be one of the deadliest months for U.S. forces in Iraq since the start of the war.
More than 3,450 U.S. troops have been reported killed in Iraq since the March 2003 invasion.
(compiled from agency reports)
On The Verge Of Civil War
On The Verge Of Civil War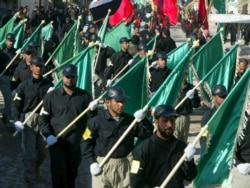 The Imam Al-Mahdi Army on parade (epa)
HAS THE CONFLICT IN IRAQ BECOME A CIVIL WAR? Many observers have concluded that the tit-for-tat sectarian violence that emerged after the February 2006 bombing of a mosque in Samarra has become a full-blown civil war.... (more)


RELATED ARTICLES
U.S. Media Starts Using 'Civil War' Label
Iraqi Prime Minister Under Fire From All Sides
U.S. Expert Discusses Prospects For Stabilization
President Says Iraq Needs Iran's Help
Saudi Arabia To Seal Off Border With Security Fence

THE COMPLETE PICTURE:
Click on the image to view RFE/RL's complete coverage of events in Iraq and that country's ongoing transition.