In a statement, the Afghan Foreign Ministry said Foreign Minister Rangin Dadfar Spanta and his Pakistani counterpart, Khurshid Kasuri, will attend the G8 foreign ministers' meeting in Potsdam to talk about peace, stability, and reconstruction in Afghanistan and the region.
Officials say both have been "specially invited" to meet on the G8 sidelines to discuss how they can ease their differences.
The meetings comes after two Pakistani soldiers were reported killed and at least five others wounded by a roadside bombing on May 26 in a region bordering Afghanistan.
Officials said the blast hit the soldiers' convoy near Tank, in the Northwest Frontier Province. The convoy was reported traveling to the South Waziristan tribal region when the attack occurred.
There was no immediate claim of responsibility. The region is considered a base of operations for Taliban and Al-Qaeda militants.
(AP, Reuters, AFP)
Tribal Trouble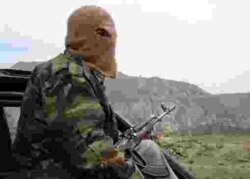 A Pakistani tribesman patrols near Wana in South Waziristan (AFP)
NO MAN'S LAND.
Fighting erupted in March involving tribesmen in Pakistan's fiercely independent western regions, where reports suggest locally backed offensives targetted Uzbek and other foreign Taliban sympathizers.
RELATED ARTICLES
Pakistan: Crackdown Could Pose Threat To Central Asia
Central Asia: Has IMU Reached The End Of The Line?
SUBSCRIBE
For regular news and analysis on Afghanistan by e-mail,
subscribe to "RFE/RL Afghanistan Report."