Ukrainian Premier Wants Delay Of Elections Vote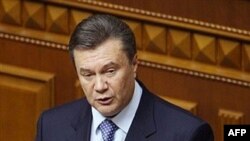 Yanukovych addressing parliament last month (AFP) May 30, 2007 -- Ukrainian Prime Minister Viktor Yanukovych has urged President Viktor Yushchenko to give parliament one more day to vote on a package of bills paving the way for early parliamentary elections on September 30.
Yushchenko and Yanukovych agreed on the election date on May 27 to end a political standoff.
Yushchenko suspended his decree to dissolve the Verkhovna Rada until the end of today to enable deputies to hold the vote.
But today's session was suspended for several hours due to disagreements between supporters of the two rivals.
(compiled from agency reports)