U.S. Defense Secretary To Visit Kyrgyzstan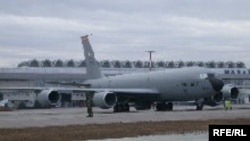 A U.S. military plane at the Manas Airport in Kyrgyzstan (RFE/RL) May 30, 2007 -- The U.S. embassy in Bishkek says U.S. Secretary of Defense Robert Gates plans to travel to Kyrgyzstan in early June for talks with senior Kyrgyz officials.
A statement from the U.S. embassy says the talks will focus on strengthening U.S.-Kyrgyz bilateral relations and cooperation on security.
It says Gates also plans to visit Manas Air Base and meet with U.S. military leaders and troops stationed there.
Precise dates for the visit were not announced.
(U.S. Embassy statement - Bishkek)