Officials unveiled plans for the program, EUPOL Afghanistan, in Brussels on May 29.
But the contingent's size -- it will be just 1/10th the size of a similar group being assembled for the tiny UN-administered province of Kosovo -- fell far short of what the EU envoy to Afghanistan would like to have seen.
The EU police mission in Afghanistan represents the first time the bloc has assumed a collective role in aiding the country's law-enforcement sector.
Ambassadors from all 27 EU member states are gathered today in Brussels to formally launch EUPOL Afghanistan.
The mission will begin work on the ground after a flag-hoisting ceremony in Kabul on June 17.
The appointment of German Brigadier General Friedrich Eichele to command this mission reflects Berlin's long-standing role training Afghan police officers, which the EU mission hopes to expand.
Eichele told journalists on May 29 that this EU mission's eventual aim is to bring the Afghan police force up to international standards.
"The mission will support the reform process towards [a] trusted and efficient police service which works in accordance with international standards within a framework of the rule of law and respect for human rights," Eichele said.
Kabul And Beyond
EUPOL Afghanistan will comprise 160-170 men by the end of 2007. They will be deployed among the NATO-led provincial reconstruction teams (PRTs) across the country, including in the southern Kandahar and Helmand provinces.
Sixteen EU states are contributing advisers, and seven non-EU states have offered them, including Ukraine and Turkey.
Eichele said about one-third of the EU's advisers will work in Kabul, and the remaining 100 outside of Kabul. He described their role as an advisory one -- and said the mission will monitor, mentor, advise, and train Afghan police officers.
EU officials say the mission will operate "under Afghan ownership" but the bloc will retain political control and "strategic direction."
The EU mission will join a larger U.S. police-training exercise that currently fields 500 instructors.
EU officials said EUPOL Afghanistan is likely to focus on more senior police officers. They also stressed that while the U.S. instructors are recruited from private security firms, EU advisers will be currently serving police officers.
'An Honorable Role'
But speaking next to commander Eichele, EU special representative to Afghanistan Francesc Vendrell said he would have liked to see a far larger EUPOL Afghanistan mission. Vendrell said its planned size of 160-170 advisers is the bare minimum for the job.
"As the [EU special representative] for Afghanistan, I would have liked it to be as large as the one going to Kosovo," Vendrell said of the roughly 1,600-member delegation to that former Yugoslav province. "But that, of course, was unrealistic and unachievable. I think [that] when I last spoke to you, or at least to some of the journalists [at the news conference on May 29], I said the mission should not be established unless it had 160 police. We have reached that number -- in fact, probably surpassed it. So I think we can play a very honorable role, together with the U.S. police mission."
Vendrell praised NATO's recent progress in the southern Helmand Province, where the NATO-led International Security Assistance Force for Afghanistan (ISAF) has cleared what he described as "a couple of the most difficult districts" in Garmsir and the Sangin Valley.
But Vendrell warned that the long-standing perception of Afghanistan as having a dangerous south and relative safety elsewhere is losing its relevance.
Vendrell said that while Taliban fighters were responsible for some of the recent attacks on NATO and allied troops, local warlords and the roughly 300 undisbanded militias have committed others. He noted that warlords undermine central government efforts to stabilize the country.
Opium In Afghanistan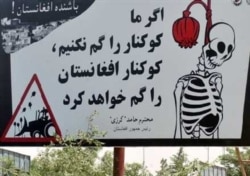 An antidrug billboard in Kabul shows a skeleton hanging from an opium bulb (AFP)
OPIUM FARMING ON THE RISE Despite a nationwide program by the Afghan government to eradicate opium-poppy fields and offer farmers alternative crops, international experts say that the 2006 opium crop will be as much as 40 percent larger than the previous year's. Afghanistan is the largest producer of opium in the world, and the source of as much as 90 percent of Europe's heroin.(more)
RELATED ARTICLES
Narcotics Supply Reduced, But Afghanistan Still Suffering
Saffron Could Help Wean Farmers Off Opium Poppies
Poppy-Eradication Drive Launched In Western Province
Insurgency Gains Ground As Poppy-Eradication Efforts Struggle
UN Drug Agency Promotes 'Alternative Development' For Curbing Poppy Cultivation
SUBSCRIBE
For weekly news and analysis on Afghanistan by e-mail,
subscribe to "RFE/RL Afghanistan Report."