Speaking today at an Asian security forum in Singapore, Gates also warned that chaos in Iraq is likely to embolden extremists around the globe. He used the podium in Singapore to warn of a host of security concerns, chief among them Afghanistan.
The Pentagon chief urged Asian nations to do more to ensure that Afghanistan does not slip back into chaos. He said that the risks there, which also include rising terrorism, extend to neighboring nations in Central Asia as well:
"I would urge others to step forward with assistance to Afghanistan in the areas of governance, reconstruction, and counternarcotics," Gates said. "It is clear that Afghanistan and its newly independent neighbors in Central Asia face steep obstacles as they strive to make the transition into prosperous, secure, and fully sovereign nations."
Gates also said some Asian states could send more military trainers to cope with the terrorist threat, adding, "The rest of Asia has a large stake in making sure Central Asian nations are equipped to deal with this threat."
His message about cooperation and burden sharing was similar to one he delivered to European allies earlier this year.
Change Of Tone On China
But it marked a shift in tone from his predecessor, Donald Rumsfeld, who used the same event in Singapore last year to confront China over lack of transparency on its military buildup.
By contrast, Gates said that while Washington was worried about the "opaqueness" of Beijing's military spending, he also chose to strike an optimistic chord with regard to U.S.-China ties:
"We are concerned about the opaqueness of Beijing's military spending and modernization programs -- issues described in the annual report on the Chinese armed forces recently released by the U.S. government," he said. "But as General Peter Pace, our chairman of the joint chief of staffs, pointed out, there is a difference between capacity and intent and I believe there is reason to be optimistic about the U.S.-China relationship."
A recently released Pentagon report highlighted concern over China's military enlargement and weapons development. But a top Chinese general, also speaking in Singapore, said Washington need not be concerned about China's growing military spending.
Lieutenant General Zhang Qinsheng said China's increased military spending was needed to cover higher salaries and pensions, new uniforms, new military schools, and logistics. He also said that China and the United States would finalize talks in September on setting up a military hotline between their two armies as a major step to improve trust.
Iran Needs Clear Message
Meanwhile, Gates renewed U.S. pressure on Iran over its nuclear program, urging the world community to unite behind tougher sanctions on Tehran.
"The reality is that because of the way that Iran has conducted its affairs, we really don't know and it puts a higher premium, it seems to me, on the international community to come together in terms of strengthening the sanctions on Iran so they begin to face some serious trade-offs in terms of their economic well-being and future for having nuclear weapons," Gates said.
In Madrid on June 1, U.S. Secretary of State Condoleezza Rice also warned against "muddying the message" on Iran. She said Iran needed to hear "loud and clear" that it has to comply with UN resolutions and suspend uranium enrichment, a process the West fears Tehran could use to make nuclear weapons.
Rice's comments came after Muhammad el-Baradei, the head of the International Atomic Energy Agency, warned on June 1 against what he called the "new crazies" advocating military action to halt Iran's nuclear program. He said that he did not want to see another war like that in Iraq.
Instead, el-Baradei urged Western powers to consider allowing Iran limited enrichment that he said would pose no weapon-proliferation risk. The Western powers have rejected his proposal.
(with material from Reuters)
Thinking Strategically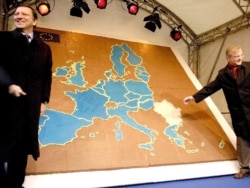 EU officials discussing enlargement at a meeting in December 2006 (epa)
OVER THE NEXT HURDLE: Bruce Jackson, president of the Project on Transitional Democracies, gave RFE/RL a wide-ranging presentation on issues related to European integration in the Balkans and Eastern Europe, as well as strengthening relations between the West and Central Asia.
LISTEN
Listen to the entire briefing (about 60 minutes):

Real Audio
Windows Media
RELATED ARTICLES
Kremlin Sees Its Foreign-Policy Star On Rise
Brussels Mulls Over Its Energy Sources
Experts Ponder Future 'Gas Wars'
The Fate Of The Multivector Model In Central Asia
SUBSCRIBE
For daily news updates from throughout RFE/RL's broadcast region by e-mail,
subscribe to "RFE/RL Newsline."