WAN said in a report issued on the eve of the World Newspaper Congress and World Editors Forum in South Africa that journalists were killed both outside and inside conflict zones.
WAN said that press freedom is being suppressed in as diverse places as Belarus, Egypt, Zimbabwe, China, and Vietnam.
The WAN report said death threats "continue to reach investigative reporters, whether they work in Haiti or Croatia."
Meanwhile, some 59 journalists have been killed since November 2006, 26 of them in Iraq.
'Attacks On The Press -- 2006'
'Attacks On The Press -- 2006'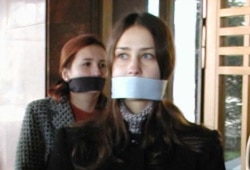 Ukrainian journalists demonstrating against censorship in December 2006 (RFE/RL)


'DOMINO EFFECT.' Two experts with the Committee to Protect Journalists told an RFE/RL-Radio Free Asia briefing on February 6 that their organization is concerned Russia's increasingly restrictive media environment is being copied by other countries in the CIS.
LISTEN
Listen to the entire briefing (about 80 minutes):

Real Audio
Windows Media
RELATED ARTICLES
New Program Finds Way Around Internet Censorship
CPJ Discusses Dangers, Obstacles Journalists Face
East: RSF Calls Iraq, Iran 'Graveyard Of Freedom'
Media Situation Worsening In Central Asia, Russia, Azerbaijan
SUBSCRIBE
For regular news and analysis on media issues throughout RFE/RL's broadcast area by e-mail,
subscribe to "RFE/RL Media Matters."