The congress, held once every three years, is taking place in Russia for the first time, and comes amid growing concern about the state of media freedom in the country.
Some 1,000 delegates, guests, and observers are attending the May 28-June 1 event, the largest representative gathering of journalists in the world. The International Federation of Journalists represents around 500,000 members in more than 100 countries.
Discussions will focus on building trust in quality journalism, as well as the protection of journalists.
The chairman of the Russian Union of Journalists, Vsevolod Bogdanov, today told RFE/RL's Russian Service about the main issues to be discussed at the congress.
A special commission will be launched to investigate the killings of five journalists in Russia whose cases remain unresolved.
"The talks during this congress will follow several directions -- these are, of course, decent working conditions for journalists, the right to social protection, protection of journalists' lives," Bogdanov said. "One of the very important topics, if not the most important topic, will be what we, the journalists, are supposed to do today, so that confidence in journalism is restored."
Challenging Impunity
Another subject prominent on the agenda is impunity -- focusing on how some states get away with having journalists killed or, more commonly, how their authorities do little to catch those responsible for journalists' deaths.
Today the federation will hold a special one-day conference titled "Challenging Impunity: the Global Campaign for Justice in Journalism."
At the conference, a special commission will be launched to investigate the killings of five journalists in Russia -- Valery Ivanov, Aleksei Sidorov, Eduard Markevich, Dmitry Kholodov, and Vladimir Kirsanov -- whose cases remain unresolved.
The commission will be organized by Russian journalists and experts.
The general secretary of the International Federation of Journalists, Aidan White, says the commission is much needed.
"There is evidence to suggest that in Russia the killing of journalists amounts to getting away with murder. There is not enough of a serious attempt by the authorities to properly investigate these cases and bring those responsible to justice," White said.
According to the New York-based Committee to Protect Journalists (CPJ), Russia is the third-deadliest country for journalists, after Iraq and Algeria.
Since 2000, at least 14 journalists have been killed because of their work in Russia. The cases all remain unsolved.
The most recent was the slaying of Russian investigative journalist Anna Politkovskaya, who was shot dead in Moscow in October 2006.
Freedom House, another media-rights advocate, puts Russia near the bottom of its ranking of 195 countries based on the state of media freedom. And the U.S. State Department recently issued a report that identified Russia as one of the worst violators of media freedom, together with Afghanistan, Egypt, and Lebanon.

'Attacks On The Press -- 2006'
'Attacks On The Press -- 2006'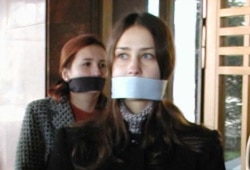 Ukrainian journalists demonstrating against censorship in December 2006 (RFE/RL)


'DOMINO EFFECT.' Two experts with the Committee to Protect Journalists told an RFE/RL-Radio Free Asia briefing on February 6 that their organization is concerned Russia's increasingly restrictive media environment is being copied by other countries in the CIS.
LISTEN
Listen to the entire briefing (about 80 minutes):

Real Audio
Windows Media
RELATED ARTICLES
New Program Finds Way Around Internet Censorship
CPJ Discusses Dangers, Obstacles Journalists Face
East: RSF Calls Iraq, Iran 'Graveyard Of Freedom'
Media Situation Worsening In Central Asia, Russia, Azerbaijan
SUBSCRIBE
For regular news and analysis on media issues throughout RFE/RL's broadcast area by e-mail,
subscribe to "RFE/RL Media Matters."