Russia: Media Moves Draw Protests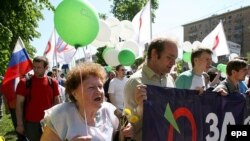 Activists marching toward Moscow's Ostankino TV broadcasting center (epa) MOSCOW, May 21, 2007 (RFE/RL) -- Several hundred demonstrators gathered outside Moscow's main broadcast tower on May 20 to protest what they called the deterioration of media freedoms on Russia's television airwaves.
Chanting "Down with Putin television!" protesters assembled in northern Moscow and made their way toward the city's Ostankino radio and television tower.
The rally, which attracted some 500 people and a police escort, came amid growing concerns about Russia's media situation as the capital prepares to host an upcoming international journalism conference.
An RFE/RL correspondent at the rally reported that speeches by human rights activists and politicians were directed mainly against state influence on television.
"We are very worried, unhappy about, and are protesting against lies on television; vulgarity on television; lack of professionalism on television; political censorship on television," Yabloko leader Grigory Yavlinsky shouted to the assembled crowd. "We consider this to be very dangerous for the future of our country."
Yabloko, along with the For Human Rights movement and the Moscow Helsinki Group, organized the rally, which was authorized by the authorities and ended peacefully.

'Good' News Only
But the event came in the wake of recent incidents that have led to allegations that the country's media are overwhelmingly being turned into mouthpieces of the government.
On May 18, eight journalists resigned from the Russian News Service in protest against newly imposed editorial policies requiring that news portray the government in a "positive light."
Mikhail Baklanov, who was fired as editor in chief at the service, said people left because "there was no chance to work professionally." The news service reaches millions of listeners by providing news to three major radio stations.
The service's new editorial directives also allegedly included a blacklist of opposition politicians, activists, and academics whose voices were not to be heard directly.
The general secretary of the Russian Union of Journalists, Igor Yakovenko, told RFE/RL today that he is among those blacklisted.
And the union itself, which represents more than 100,000 media professionals, is encountering its own problems.
On May 15, the Russian Union of Journalists was given three days to vacate its offices in central Moscow for allegedly violating its lease. The union occupies the premises under the terms of a presidential decree issued in the 1990s by former President Boris Yeltsin.
As the authorities question the validity of the arrangement, the union has so far defied the eviction notice and vows to take the issue to court.
But the timing of the development has raised eyebrows. The union had been actively engaged in preparations for the International Federation of Journalists (IFJ) World Congress, which is to be held in Moscow from May 28-June 2.
Heightened Scrutiny
The recent events threaten put the failures of Russian media squarely in the spotlight -- a possibility Yakovenko is not happy about.
"The last thing I wanted to see was the congress dealing with affairs of Russia or the Russian Union of Journalists," Yakovenko said. "I am very much ashamed that this situation had to become publicly known. I would not want journalists from 160 national unions discussing problems of Russia, or problems of the Russian Union [of Journalists]."
But Rachel Cohen, human rights and information officer for the IFJ, expresses the hope that the events will not negatively affect the intention of the congress.
"There are some worries about what could be possible negative impact on our congress," Cohen said. "But really we are trying to focus on what could be the positive impact. We hope that having this international event in Moscow, focusing on media, media freedom, and media safety will really, actually improve the situation there and not just be a way for journalists all over the world to show their solidarity with Russian journalists."
Nevertheless, the IFJ has sent a letter to Russian President Vladimir Putin, expressing its concern over the eviction of the Union of Journalists. The international media watchdog Reporters Without Borders has also responded with official statements.
And when thousands of journalists and media representatives from around the world descend on Moscow for the IFJ World Congress next week, they will be greeted with a special opening session on the "crisis of impunity" in Russia.
NOT REALLY SO FUNNY:
The Paris-based World Association of Newspapers asked French cartoonist Michel Cambon to produce a series of cartoons on the theme of jailed journalists to mark World Press Freedom Day (May 3). Below, RFE/RL reproduces several of Cambon's cartoons.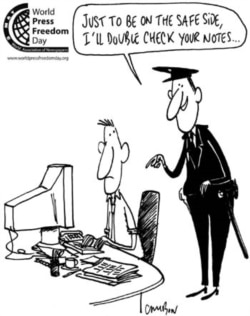 (WAN/Cambon)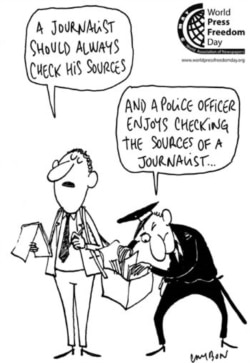 (WAN/Cambon)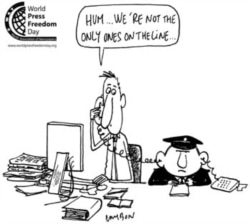 (WAN/Cambon)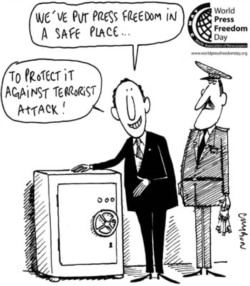 (WAN/Cambon)



RELATED ARTICLES
Threats To Press Freedom Growing More Severe
CIS Press Freedom Suffers Continued Decline
Pressure Mounting On Russian Opposition, Media
Uzbek Government Increases Its Blocking Of News Websites
ARCHIVE
To view an archive of RFE/RL's coverage of media-related stories, click here.
SUBSCRIBE
For regular news and analysis on media issues throughout RFE/RL's broadcast area by e-mail,
subscribe to "RFE/RL Media Matters."