U.S. and European officials are expressing concern that increased shipments of Iranian-made weapons are reaching Shi'ite insurgents in Iraq and Taliban militants in Afghanistan.
The officials say the weaponry includes rockets of the same type that Hizballah has used to attack Israel, plus sophisticated explosive devices, believed to originate in Iran, which have already killed many U.S. soldiers in Iraq.
Ongoing arms shipments would complicate attempts to end the fighting in both Iraq and Afghanistan, and would further strain the West's relations with Iran.
U.S. Ambassador to Iraq Ryan Crocker said on May 27 the United States has "solid evidence" that Iranians are supplying arms to Iraqi militant groups. Crocker said the Quds Force of the elite Iranian Islamic Revolutionary Guards Corps (IRGC) is the channel through which the weaponry is supplied.
Origins Unclear
Iran strenuously denies the accusations.
The latest items reportedly arriving in Iraq include the Fajr-3 rocket, which has a range of 50 kilometers and was used successfully by the Hizballah Shi'ite militia in Lebanon to attack targets in northern Israel. Iraqi insurgents have already used Fajr-3's -- their longest-range rocket -- to strike at targets inside Baghdad's heavily guarded Green Zone.
In Afghanistan, U.S. forces and British NATO forces have reported seizing shipments of Iranian-made arms ranging from mortars, to rocket-propelled grenades, and small arms, in the southern Helmand Province and elsewhere.
U.S. Defense Secretary Robert Gates, speaking at a press conference in Kabul today, said it is unclear whether such weapons are being sent by Iranian authorities.
Senior analyst Paul Ingram, of the British American Security Information Council, casts doubt on whether the Iranian government would supply arms on any scale to the Taliban. He notes, for one thing, that Iran is predominantly Shi'ite, while the Taliban are Sunni Muslims. In addition, Iran took an active part in the U.S.-led campaign to oust the ruling Taliban militia in 2001.
"It would be extremely surprising if Iran were actively and coherently behind the Taliban and supporting them with military supplies," Ingram says.
Deadly Development
Potentially the deadliest development for the U.S.-led coalition forces and the NATO-led forces in Afghanistan is the apparent arrival of powerful roadside bombs of the type that has claimed the lives of many U.S. soldiers in Iraq. Known as the explosively formed projectile (EFP), the device is able to pierce armor. The type is thought to be of Iranian design.
AP reported from Kabul that an unexploded EFP was found near a university campus in the Afghan capital last week, and several others were earlier found in Herat, near the Iranian border.
As to whether the Iranian arms are arriving in Afghanistan as a result of commercial purchases on the arms market, analyst Ingram says the international arms trade is pervasive, and its channels are many and murky.
He notes that Iraqi insurgents have mostly Western arms.
"A large proportion of the weapons being used by the insurgents in Iraq are actually American or European in origin -- not because they are being supplied by those governments but because the weapons have found their way either through the security forces, or commercial dealings, into the hands of the insurgents," Ingram says.
Just how murky arms deliveries can get is illustrated by the surprise that Turkish authorities received on May 29, when they reported discovering a clandestine shipment of arms aboard a train traveling from Iran to Syria. There has been no word on the final destination of those weapons arms.
Meanwhile, Iran, for its part, says it has found U.S.-made weapons on the bodies of Iranian rebels it claims were trying to infiltrate into Iran from Turkey. Iran claims that U.S. and British intelligence are supporting Iranian antigovernment rebels in border areas.
The Afghan Insurgency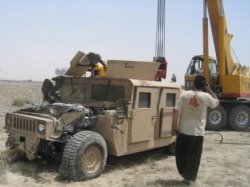 A U.S. military vehicle damaged by insurgents near Kandahar (epa)
HOMEGROWN OR IMPORTED? As attacks against Afghan and international forces continue relentlessly, RFE/RL hosted a briefing to discuss the nature of the Afghan insurgency. The discussion featured Marvin Weinbaum, professor emeritus of political science at the University of Illinois at Urbana-Champaign, and RFE/RL Afghanistan analyst Amin Tarzi.
LISTEN
Listen to the entire briefing (about 83 minutes):
Real Audio
Windows Media
ARCHIVE
RFE/RL's
coverage of Afghanistan
.
SUBSCRIBE
For weekly news and analysis on Afghanistan by e-mail,
subscribe to "RFE/RL Afghanistan Report."