The radar would be part of a proposed antimissile system in the Czech Republic and neighboring Poland. Russia has said it considers the proposed missile-defense system a threat to its security.
Russian President Vladimir Putin said in Moscow that if the U.S. missile-defense plan goes forward, Russia could retaliate by pointing its missiles at targets in Europe.
"If a new missile-defense system will be deployed in Europe, then we need to warn you today that we will come with a response," Putin said. "We have to ensure our security, and we are not the initiator of this process."
U.S. national security adviser Stephen Hadley today told reporters traveling with Bush aboard Air Force One that Putin's comments are "not helpful," and represent "an escalation in the rhetoric."
U.S. Secretary of State Condoleezza Rice in turn warned Russian President Vladimir Putin that Washington and its allies cannot be divided on their mutual defense.
Bush and Putin are due to meet at the summit of the Group of Eight (G8) industrialized nations that begins on June 6 in Germany.
(compiled from agency reports)
Thinking Strategically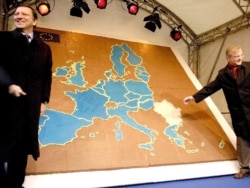 EU officials discussing enlargement at a meeting in December 2006 (epa)
OVER THE NEXT HURDLE: Bruce Jackson, president of the Project on Transitional Democracies, gave RFE/RL a wide-ranging presentation on issues related to European integration in the Balkans and Eastern Europe, as well as strengthening relations between the West and Central Asia.
LISTEN
Listen to the entire briefing (about 60 minutes):

Real Audio
Windows Media
RELATED ARTICLES
Kremlin Sees Its Foreign-Policy Star On Rise
Brussels Mulls Over Its Energy Sources
Experts Ponder Future 'Gas Wars'
The Fate Of The Multivector Model In Central Asia
SUBSCRIBE
For daily news updates from throughout RFE/RL's broadcast region by e-mail,
subscribe to "RFE/RL Newsline."