Hundreds Rally Against Chechens In Southern Russia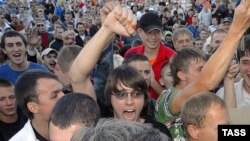 People took to the streets on June 6 to protest the murders (ITAR-TASS) June 6, 2007 -- Some 1,000 people have rallied in the Russian city of Stavropol to demand the eviction of ethnic Chechens.
The rally, late on June 5, came just days after two Russian students were stabbed to death in the city, which is close to Chechnya.

The protesters also demanded the resignation of Stavropol Krai Governor Aleksandr Chernogorov, regnum.ru and Interfax reported.

Riot police briefly detained up to 51 demonstrators and reportedly filed charges against one of them.
Many residents believe Chechens murdered the students to avenge the death of a Chechen youth during a massive brawl on May 24 involving local Russians and Chechens.

No charges have been filed in those cases.

Surge In Violence
Officials have sought to downplay any racial element in the killings, which come amid a surge of racist violence across the country.

On June 6, Governor Chernogorov met with representatives of the protesters, who demanded that the murders be solved and that citizens' safety be guaranteed.

Anatoly Kucherena, a Public Chamber deputy and a lawyer, appealed to the authorities to provide full information regarding the killings.

He reminded them of the September 2006 affair in Kondopoga in Karelia, which demonstrated the importance of providing complete and objective information to the public.

A bar fight there left two Russians dead, which triggered widespread looting and demonstrations aimed primarily at people from the Caucasus.

(Compiled from agency reports)