This year, authorities in Moscow and St. Petersburg have barred nationalist and neo-Nazi groups from holding a repeat of last year's march, when more than 1,000 demonstrators paraded through Moscow chanting Nazi slogans and calling for the expulsion of foreigners.
'Who Is With Us'
But Nikolai Kuryanovich, an ultranationalist State Duma deputy and one of the march's organizers, told RFE/RL's Russian Service that the rally will go ahead in defiance of the ban.
"Come rain or shine, the march will take place because no Moscow authorities can forbid [it] and ignore the laws and the constitution of our country," Kuryanovich said.
"It will be a historical watershed that will show who is with the nation and who is against it," he continued. "The march will be a demonstration of our ever-growing national unity, of the rising Russian self-awareness. It will be a call to the Russian authorities to finally pay attention to the majority of the Russian people, who are suffering and being discriminated against."
"This is nothing new for us, we've stopped being surprised. What haven't we heard and seen here! One day they kill an Armenian, the next a Tajik."

Kuryanovich was expelled from the nationalist Liberal Democratic Party of Russia (LDPR) this week for his role in orchestrating the rally, which has been dubbed the "Russian March." The Movement Against Illegal Immigration and the nationalist Motherland party are the two other driving forces behind the march.
Kuryanovich says he expects at least 10,000 demonstrators to turn up for the march, whose location is being kept secret.
'Nothing New For Us'
Dark-skinned foreigners and migrants from the Caucasus, the usual targets of racial attacks, are bracing for a surge of violence on November 4.
Liza, a Chechen woman living in Moscow, told RFE/RL's North Caucasus Service that she and her three children will not leave the safety of their home.
"My husband warned me and asked me not to let the children go anywhere," she said. "This is nothing new for us, we've stopped being surprised. What haven't we heard and seen here! One day they kill an Armenian, the next a Tajik."
Fighting 'Disease' Of Fascism
This year, opponents of the march are planning to hit back with a counterrally in central Moscow on November 4. The rally is organized by the Russian Antifascist Front, a grouping founded in June to combat Russia's growing nationalism and xenophobia. It unites liberal politicians, rights campaigners, public figures, and civil groups.
"Fascism is a disease," says Mikhail Schneider, the movement's coordinator. "To compare it with a human disease, it is like a cancerous tumor. Diseases like cancer have to be treated at the earliest possible stage. It is a complex problem that must be combated by the government, by the Russian Antifascist Front, and by civil society, including informal youth organizations. These fascist mobs must be tackled head on."
Like most Antifascist Front members, however, Schneider disapproves of the decision to outlaw the nationalist march. He says the ban has no legal grounds and will also contribute to driving extremist groups underground, making them harder to combat.
Instead, organizers of the counterrally have called on senior politicians to signal their disapproval by showing up at their demonstration. But Schneider says the official response so far has been meager
"Letters were sent personally to [Yury] Luzhkov, Moscow's mayor, to deputies of the State Duma, to all deputies of the Moscow City Duma. Letters were also sent personally to [State Duma Speaker Boris] Gryzlov and to [Andrei] Bogdanov, the leader of the Democratic Party of Russia. Letters were sent to all parties apart from the Liberal Democratic Party of Russia," he said. "But so far, except for three Moscow City Duma deputies, nobody has responded."
Official Inaction
One of these deputies is Ivan Novitsky, who represents the liberal Yabloko party in the Moscow legislature. He says the counterrally is vital to raise public awareness about racism and xenophobia.
"This is a way of attracting society's attention to this problem, of expressing a different opinion," Novitsky says. "Unfortunately, in recent months, [xenophobic] tendencies have emerged not only in Moscow but also in other Russian regions, and this has been widely discussed. I think that in places where government authorities are failing to formulate an official stance, we must counteract by making our own proposal to eliminate the fascist threat in Russia."
Rights campaigners frequently accuse Russian authorities of turning a blind eye to the growing wave of racially motivated crimes in the country. Blatantly racist attacks are often treated as "hooliganism" instead of being prosecuted as racial crimes, which carry severe penalties.
According to the Sova center, a group that monitors racism, 39 people have been killed in hate crimes and a further 308 attacked so far this year. A report released in May by the international human rights watchdog Amnesty International said racist killings in Russia are "out of control."
November 4 will indeed by a watershed for many in Russia. For those backing the Russian March it be a test of who is, in Kuryanovich's words, "against Russians." For liberal forces, it will be a test of the government's resolve to combat xenophobia and racial violence.
Moscow Takes On Extremism
Moscow Takes On Extremism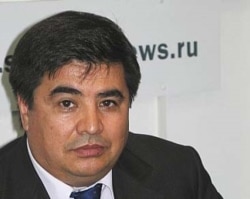 Kamlizhan Kalandarov in RFE/RL's Moscow studio (RFE/RL)
COMBATTING THE HATRED:
RFE/RL's Russian Service on August 21 spoke with
Kamilzhan Kalandarov
, a member of the Public Chamber and a leader of the NGO Our Russia. (Read
the complete interview
in Russian). Kalandarov spoke about efforts the authorities are making to combat the wave of hate crimes sweeping Russia.
Kalandarov: Xenophobia today threatens the national interests of Russia. But I agree that the authorities are making good progress in this matter. First, the order on withdrawing Russian forces from Chechnya was recently signed. That is a big plus because the source of extremism, the sources of Caucasus-phobia are partly in Chechnya. Islamophobia grew dramatically after the first Chechen war. Next, the Public Chamber was created. We have a subcommission on nationalities issues and a subcommission that drafts projects related to xenophobia. This work is ongoing, which is why I think the authorities are really interested in making sure this problem does not go any further.
We should also mention the courts. I think that in many cases judges themselves hold [xenophobic] views. Second, we have not created normal conditions for protecting witnesses. People are not physically protected from various types of influence. Judges are afraid and witnesses are afraid. Because they have to keep living in that city. This defenselessness leads to cases not being pursued and to not-guilty verdicts being issued.
RELATED ARTICLES
A Timeline Of Recent Racial Incidents
Russian Ombudsman Condemns Hate Crimes
Hate Crime Trial Highlights Mounting Racism
Minister Says Russia Can't Stop Xenophobia Alone
For African Students In Russia, Affordable Education Comes At A Price
ARCHIVE
To view an archive of all of RFE/RL's coverage of Russia, click here.

SUBSCRIBE
For a regular review of civil-society developments throughout RFE/RL's broadcast region, subscribe to "RFE/RL (Un)Civil Societies."


RFE/RL IN RUSSIAN: Visit RFE/RL's Russian-language website, featuring news, analysis, features, streaming audio, and more in Russian, courtesy of RFE/RL's Russian Service.