Nobel Laureate Wiesel Warns Of Europe's Xenophobia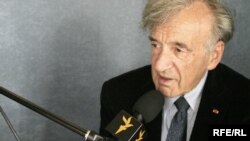 Elie Wiesel (file photo) (RFE/RL) June 7, 2007 -- Nobel prize laureate Elie Wiesel says racism, xenophobia, and anti-Semitism remain problems in many European countries.
Wiesel, a Romanian-born Holocaust survivor, was speaking in a video message to a conference on combating discrimination and intolerance organized by the Organization for Security and Cooperation in Europe (OSCE) that started in Bucharest today.
Spanish Foreign Minister Miguel Angel Moratinos, the OSCE's chairman, called on the international community to cooperate in promoting tolerance and fighting extremism.
(AP)