Many residents in the town, which is populated primarily by Slavs, believe Chechens are responsible for the slaying of two Russian students, possibly in revenge for the fatal attack on a young Chechen man during ethnic skirmishes in late May.

Officials in Stavropol have claimed that student Gelani Atayev died as a result of injuries sustained during the May 24 clashes between Slavs and Caucasians.

Eyewitness Account
But Zaurbek Akhmadov, a fellow Chechen student, witnessed the circumstances surrounding Atayev's death.

He told RFE/RL's North Caucasus Service that skinheads were responsible for the vicious beating that ultimately killed Atayev. But they didn't act alone, he claimed, saying that OMON riot troops and local police, who had been called out when the clashes began, played a role as well.
"The police officers were standing right there when the three skinheads started beating up Gelani. They put handcuffs on him and handed him to [the skinheads]." -- Zaurbek Akhmadov
"They [the OMON] cheered on the [skinheads]," Akhmatov said. "They yelled, 'Kill the [Chechens!]' And the policemen cheered them on too, saying, "Come on! There's more of you and there are only a couple of them! Come on!'

"If they hadn't done that, everyone would have gone away calmly. The police officers were standing right there when the three skinheads started beating up Gelani. They put handcuffs on him and handed him to [the skinheads]. When I turned around and saw the three of them beating Gelani, I ran and threw one of the skinheads to the side. As soon as I went after the second one, they shot me," Akhmadov added. "The bullets went through both of my legs, and I fell on my knees. Then they kicked me in the face while I was lying on the ground. Then they threw us in a UAZ patrol jeep. They put Gelani in at the bottom. He was still breathing at that time."


Akhmadov said Atayev, who was unconscious, had been struck several times in the throat with a truncheon. As they were taken on a rambling drive through the city, Akhmadov says, Atayev's breathing became more and more labored.
"He was breathing, but he was wheezing. I called for help, and pounded on the window and door [of the jeep]. I asked for them to take off at least my handcuffs, so that I could help him. I asked them to bring a doctor. They answered, 'Don't worry. He won't be shouting 'Allah Akbar' anymore. There'll be one less of you,'" Akhmadov said.
"They drove us around the city in that jeep for an entire hour. Gelani was lying down below, because they had put us in a pile. They brought us back to the place where everything happened. They started to put us in another car. They hurled Gelani onto the ground, face first. Then they tried to stand him on his feet, but he just slid down. He died. Then they threw him back in the car."

RFE/RL has obtained a series of graphic photographs of Atayev's body that show obvious signs of injury to the throat and head. Marks on his wrists appear to show that his hands had been tied or restrained with handcuffs.

Suspicious Circumstances
At the police station, Akhmadov was told he would act as a witness. But after refusing an appointed lawyer, saying he preferred to hire his own, he learned that he was now under suspicion for attacking a police officer. It is, he said, what officials in Stavropol "usually do with Chechens."

Akhmadov was speaking on June 5, after being released from detention. He is the first -- and so far the only -- witness to speak about the case.

Gelani Atayev's father, Ruslan, had earlier told RFE/RL he didn't expect any witnesses to step forward, because they were all hiding from officials for fear of arrest or harassment.

"The murder was committed entirely by authorities, and this fact is indisputable," he said. "That is why investigations aren't being conducted."


Atayev's death was just the start of the violence. Nine days later, on June 3, two ethnic Russian students, Dmitry Blakhin and Pavel Chadin, were stabbed to death in a nighttime attack.
Police, who say the attack was recorded on videotape, announced today they had detained a suspect in the case.
They had earlier released a sketch of one of the alleged assailants, who was Slavic in appearance.
Many locals, however, were unconvinced. They said the killings were the likely work of Chechens seeking revenge for Atayev's death.
Law-enforcement officers have repeatedly dismissed the vengeance claim. Stavropol Krai Governor Aleksandr Chernogorov vowed to personally oversee the investigation, and called on local officials to prevent "destructive forces" from "fanning interethnic discord."
His orders weren't enough to prevent hundreds of ethnic Russians from gathering on the evening of June 5 -- the day Blakhin and Chadin were buried -- to attend a so-called
"Slav rally" to protest the killings
.
One participant was recorded shouting, "We didn't [kill] enough of you in Chechnya" while another yelled "We'll make another Chechnya here. Glory to Russia!" Others were heard chanting "Glory to Russia! Glory to Russia! Russia! Russia!"
Many of the protesters were skinheads and members of ultranationalist groups such as the Movement to Stop Illegal Immigration, a group whose stated goals include nationwide expulsion of non-Russians.
Police eventually rounded up 51 protesters. Two remained in detention the following day.
Police Roundup
The spokesperson for the regional Interior Ministry directorate, Viktor Ignatyev, said the police had brought in protesters who appeared to be violent or otherwise disruptive.

"Fifty-one people, including eight minors, were not detained, but delivered to the Leninsky district department of internal affairs (ROVD) for investigation," Ignatyev said. "We followed administrative protocol. In relation to one other citizen, a criminal case has been opened according to the article on 'Inciting hatred or enmity or denigration of human dignity.' The group disrupted public order -- they were shouting out slogans. It took some physical force to round them up; some of them were handcuffed. It wasn't anything terrible."
The year 2006 saw 540 recorded cases of violent hate crimes throughout Russia, including 54 slayings.
Stavropol Krai, a region in the North Caucasus predominantly populated by Slavs, has long been considered a potential powder keg as ethnic and religious discrimination rises throughout Russia.

The recent unrest in Stavropol is reminiscent of riots in the northwestern Russian town of Kondopoga in 2006, in which local Slavs and ethnic Chechens working in the area staged violent clashes.

The year 2006 saw 540 recorded cases of violent hate crimes throughout Russia, including 54 slayings.

Rizvan is an ethnic Chechen who has lived in Stavropol all his life and says he doesn't intend to leave now.

"There have been attacks on Caucasians here before. Some time ago, a Karachayev was killed after suffering knife wounds," Rizvan said. "Here and there Chechens and Karachayevs and representatives of other ethnic groups were beaten up. Usually this happens when there are a lot of [attackers], and they're sure that a potential victim can't stand in their way. What happened is 100 percent a provocation that was probably planned in advance."

Officials from Russia's Southern Federal District, which includes Stavropol Krai, in April called together a conference of regional experts to discuss the issue of interethnic tensions.

Their reported conclusion was grim: relations between the territory's ethnic and religious communities are tense and may grow even worse during the next two years.
(RFE/RL's correspondent in Stavropol, Lada Ledeneva, contributed to this report.)
No Way Out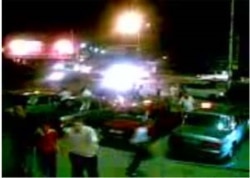 A screen shot of amateur video depicting the scene in Stavropol on May 24 (RFE/RL)
OUTNUMBERED: Hasan Gakiyev, a young Stavropol resident, was among the Chechens caught up in the city's violent ethnic clashes on the night of May 24. He says the Chechens might have been able to walk away from the confrontation with local skinheads had it not been for local OMON riot police, who created a blockade preventing their escape. He told his story to RFE/RL's North Caucasus Service.
We went outside around 8 o'clock at night. The non-Russians gather in the northwestern part of the city, near a salon with slot machines.
As we were hanging out, a group of skinheads approached us. Most of them had completely shaved heads, although some of them had some hair.
One of them asked if we knew that one of "ours" had been beaten up recently. We did know that one day earlier, a young man was severely beaten and was in the hospital. He was hit in the head three times with a steel rod.
"Was that your comrade?" they asked.
We answered: "Yes, that was our friend. So what happened?"
"We were the ones who beat him," they said.
As we were discussing this, three police officers approached. One of them suggested that a person from each group fight it out one on one, and then we could disperse and go home.
We agreed. After our comrade beat up one Russian, we continued sorting things out for about five minutes. When we walked away, they began throwing rocks and bottles at us. Very soon, a fully-equipped group of OMON was in front of us. So we were trapped between the OMON and the skinheads.
The OMON officers said to us: "Calm down. That's it. Quiet. Calm down." We told them not to talk to us, but to those who were chasing us.
From time to time, the OMON would give orders to the skinheads to beat us. We tried to fight back, but we were outnumbered. We tried to run away, but many of us were caught and brought to the local OMON headquarters.