Police detained some 100 participants in the violent riots that broke out in Kondopoga after the August 30 incident between a group of ethnic Russians and Chechens at a restaurant, Chaika, owned by a Chechen man.

Brawl Sparks Riots
The fight, which by all reports began as a drunken brawl, sparked angry riots after two of the Russians involved were killed. Angry mobs of Russian youths subsequently attacked businesses run by non-Russians in an attempt to clear the town of all but ethnic Slavs.

Armed with Molotov cocktails, they stormed the restaurant and other Chechen-owned businesses, setting them ablaze.

On September 3, some 2,000 residents turned out at the Kondopoga square demanding that police expel Chechens and other ethnic minorities from the Caucasus from the town.

Russian television networks showed footage of young men using rocks to shatter storefront windows.

The violence began to subside only after riot police arrived in Kondopoga on the evening of September 2.
Aleksandr Verkhovsky is the director of the Moscow-based human rights group Sova. He said unrest continued through the night of September 3, and that the situation remains tense.
"Last night [September 3-4], the unrest continued, but on a much smaller scale," Verkhovsky said. "The [rioters] tried again to set fire to this unfortunate cafe, Chaika, even thought it had already been almost completely burned down the night before. The firefighters immediately put out the flames. The [rioters] also tried to set fire to another building in another part of town, but it's not completely clear what the target was. The OMON troops dispersed all the crowds who tried to gather at night."
At least some of the rioters were members of local nationalist groups. But Verkhovsky dismisses early reports that the mobs had been augmented by large numbers of youths flowing into Kondopoga from similar nationalist groups elsewhere in Russia.
"I think there aren't many of them," Verkhovsky said. "There are definitely some representatives of the organization called 'Movement Against Illegal Immigration," who arrived together with their leader. But according to all the reports, only a very small number of [Russian] nationalists came. Some did come from Moscow, and from Petrozavodsk. I don't know the other places they came from, but there aren't many of them there."
Growing Trend
The riots come as ethnically motivated attacks are on the rise in Russia. Foreigners, Jews, and dark-skinned migrants from the Caucasus and Central Asia have all come increasingly under attack during the past several years.

The Karelia riots follow a market bombing in Moscow August 21 reportedly orchestrated by three young Slavs to kill non-Russians.

The riots were strongly criticized by Ramzan Kadyrov, the prime minister of the pro-Moscow government in Chechnya.

Speaking today, Kadyrov blamed local officials for the violence and said he would find "legal methods" to intervene if necessary.

"I am against it and I will not allow it. I will do everything to defend the rights of Chechen citizens," Kadyrov said. "Those were not friends of Russia who [attacked the Chechens]. Someone put them up to this. We must approach this issue objectively and prevent such incidents from occurring again in the future."

Accusations Of Passivity
Verkhovsky agrees that local authorities are largely to blame for the incident.


The police were present from the beginning of the original brawl, he says, but remained largely passive.
Only now, he says, have local authorities apparently gained control of the situation -- and largely by abiding by the will of the mobs.
"We'll see what happens tonight (August 4-5), but probably everything will be calmer, because additional police forces have been sent to the town," Verkhovsky said. "Also, the attackers have gotten the results they wanted -- local authorities have basically endorsed the decisions made by residents."
Verkhovsky says city officials decided to strip the Chechen owner of the Chaika restaurant of his property.
All Kondopoga residents who are Caucasus natives -- some several dozen at most -- will be subject to document checks and expelled if they are found to be in the city illegally.
This, he says, likely means that many of them will have to go.
Moscow Takes On Extremism
Moscow Takes On Extremism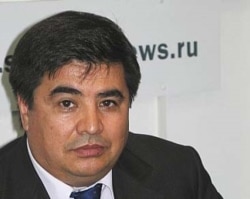 Kamlizhan Kalandarov in RFE/RL's Moscow studio (RFE/RL)
COMBATTING THE HATRED:
RFE/RL's Russian Service on August 21 spoke with
Kamilzhan Kalandarov
, a member of the Public Chamber and a leader of the NGO Our Russia. (Read
the complete interview
in Russian). Kalandarov spoke about efforts the authorities are making to combat the wave of hate crimes sweeping Russia.
Kalandarov: Xenophobia today threatens the national interests of Russia. But I agree that the authorities are making good progress in this matter. First, the order on withdrawing Russian forces from Chechnya was recently signed. That is a big plus because the source of extremism, the sources of Caucasus-phobia are partly in Chechnya. Islamophobia grew dramatically after the first Chechen war. Next, the Public Chamber was created. We have a subcommission on nationalities issues and a subcommission that drafts projects related to xenophobia. This work is ongoing, which is why I think the authorities are really interested in making sure this problem does not go any further.
We should also mention the courts. I think that in many cases judges themselves hold [xenophobic] views. Second, we have not created normal conditions for protecting witnesses. People are not physically protected from various types of influence. Judges are afraid and witnesses are afraid. Because they have to keep living in that city. This defenselessness leads to cases not being pursued and to not-guilty verdicts being issued.
RELATED ARTICLES
A Timeline Of Recent Racial Incidents
Russian Ombudsman Condemns Hate Crimes
Hate Crime Trial Highlights Mounting Racism
Minister Says Russia Can't Stop Xenophobia Alone
For African Students In Russia, Affordable Education Comes At A Price
ARCHIVE
To view an archive of all of RFE/RL's coverage of Russia, click here.

SUBSCRIBE
For a regular review of civil-society developments throughout RFE/RL's broadcast region, subscribe to "RFE/RL (Un)Civil Societies."


RFE/RL IN RUSSIAN: Visit RFE/RL's Russian-language website, featuring news, analysis, features, streaming audio, and more in Russian, courtesy of RFE/RL's Russian Service.