The village is in the Stavropol region, in an area that, despite its proximity to Chechnya, has not been touched recently by the conflict.
Interior Ministry officials say eight of their officers died in the fighting and that they killed at least 11 gunmen.
RFE/RL's Russian Service correspondent in Stavropol, Lada Ledenyova, reported from the scene that not all of the militants were stopped.
"Eleven militants were liquidated but the regional police department believes several of them managed to escape. The operation began at about [4 p.m. yesterday] after information was received about a weapons and ammunition cache in a deserted village bathhouse. When an operational group was sent to the place, they did not find a [weapons] cache but came under fire from militants."
The gunmen had taken control of two houses in the village, which the authorities destroyed with tanks.
A Federal Security Service press officer said the militants were ethnic Nogais, who have been fighting Russian forces in Chechnya since the late 1990s.
(with material from agency reports)
The Chechnya Conflict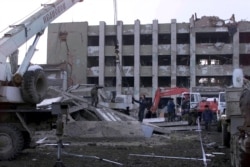 The aftermath of a December 2002 Chechen resistance attack on the main government building in Grozny (epa)


CHRONOLOGY
The
fighting in Chechnya
has raged, with short breaks, since 1994. It has brought misery, death, and destruction to the North Caucasus republic and to Russia as a whole. View an
annotated timeline
of the conflict.

ARCHIVE
RFE/RL's complete coverage of Russia's war-torn Republic of Chechnya.