Meanwhile, two Russian police officers and five militants died today in a clash with a group of suspected Chechen militants in a southern province near war-ravaged Chechnya.
The AP quotes Roman Shchekotin, a spokesman for the regional branch of Russia's Interior Ministry, as saying that police hunted down five militants in Tukui-Mekteb, a village in the southern Stavropol region about 40 kilometers north of the border with Chechnya.
(AFP, AP)

The Chechnya Conflict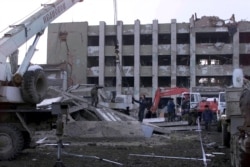 The aftermath of a December 2002 Chechen resistance attack on the main government building in Grozny (epa)


CHRONOLOGY
The
fighting in Chechnya
has raged, with short breaks, since 1994. It has brought misery, death, and destruction to the North Caucasus republic and to Russia as a whole. View an
annotated timeline
of the conflict.

ARCHIVE
RFE/RL's complete coverage of Russia's war-torn Republic of Chechnya.