Afghanistan: Workers Still Await Security Clearance To Repair Kajaki Dam
British troops operating near Kajaki in January 2007 (epa) June 12, 2007 (RFE/RL) -- British and U.S. forces in southern Afghanistan have not yet been able to claim success on their key stated objective despite a major NATO offensive against the Taliban.
The international troops are trying to keep the area around the Kajaki Dam safe enough for workers to complete repairs so the hydroelectric facility can provide electricity to some 2 million people.
British and U.S. forces are promising millions of dollars in aid for the volatile Sangin district of Afghanistan's southern province of Helmand. But they say the aid will only be delivered if tribal elders help prevent Taliban fighters from returning to the area after NATO's spring offensive there.
About 100 district elders were told by U.S. and British military officers on June 7 that construction workers will not come to Sangin to build hospitals and roads -- or to repair the nearby Kajaki Dam -- as long as locals continue to support Taliban fighters.
In December, Britain's top commander in Afghanistan announced that the Taliban had been "cleared" from the Kajaki area so that construction workers could return in the spring. But that claim proved premature when Taliban fighters in February seized nearby towns and continued to launch mortar and rocket attacks on the dam.
Since then, the mountain valley to the north of Sangin has been seen as a key -- both tactically and symbolically -- to controlling southern Afghanistan.
In March, NATO launched a major offensive to force the Taliban away from the dam.
'The Spoilers'
NATO Secretary-General Jaap de Hoop Scheffer explained that the reconstruction of Kajaki's main turbine would show millions of people in Helmand and Kandahar provinces that foreign forces are in Afghanistan to help improve their security and living conditions.
"When the turbine in that dam is [installed], it will give power to 2 million people and their businesses," de Hoop Scheffer said. "It will provide irrigation for hundreds of farmers. And it will create jobs for 2,000 people. The Taliban, the spoilers, are attacking this project every day to [try to] stop it from going forward."
Sangin has been largely quiet since the start of June when NATO cleared the Kajaki valley with a combined U.S.-British assault -- Operation Axe Handle.
The operation's British commander, Lieutenant Colonel Stewart Carver, told the elders at Sangin last week that forcing the Taliban back was the easy part. He said the more difficult part is to make sure the Taliban do not return.
Still On Hold
Amid those concerns, NATO has not yet given clearance for civilian workers to move in and start repairs at the Kajaki Dam.
Carl Abdou Rahmaan is the acting mission director in Afghanistan at the U.S. Agency for International Development (USAID) -- the organization that is funding Kajaki's reconstruction.
Rahmaan told RFE/RL today that although fighting has prevented workers from setting up their base camp, some aspects of the project are moving forward.
"In light of the military activities there, we have adjusted our schedules and we have moved forward with the project," Abdou Rahmaan said. "We have identified those aspects of the project where we could begin and continue work, and we are moving forward with them. The schedule that we are working with now does not impact negatively on the overall schedule because we will be moving forward with putting in place routine capabilities to deliver materials and supplies to the campsite. We will be moving forward with the road construction. And the plan is to move forward with the transmission line."
When completed, the transmission line would stretch some 190 kilometers from the dam to the city of Kandahar. But Rahmaan said workers must first complete the roads needed by construction workers and security forces to link the dam to the country's main highway -- the so-called ring road that links Kabul with Kandahar and Herat.
"The plan now is to build a construction access road from the ring road up to Sangin to enable us to move materials up toward the dam," Abdou Rahmaan said. "We have a major program, our provincial-roads program, that is planned to link the ring road to the provincial capitals. And then we have a secondary roads program that will be moving down to the district level. This [construction] road is primarily linked to the Kajaki dam project. It is being financed with the resources that would normally be associated with the provincial roads project."
USAID officials hope that residents of Kandahar will start receiving electricity from Kajaki's repaired turbine by early 2008. But to reach that goal, work on the turbines would have to start during the next two months.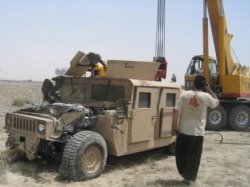 A U.S. military vehicle damaged by insurgents near Kandahar (epa)
HOMEGROWN OR IMPORTED? As attacks against Afghan and international forces continue relentlessly, RFE/RL hosted a briefing to discuss the nature of the Afghan insurgency. The discussion featured Marvin Weinbaum, professor emeritus of political science at the University of Illinois at Urbana-Champaign, and RFE/RL Afghanistan analyst Amin Tarzi.
LISTEN
Listen to the entire briefing (about 83 minutes):
Real Audio
Windows Media
ARCHIVE
RFE/RL's
coverage of Afghanistan
.
SUBSCRIBE
For weekly news and analysis on Afghanistan by e-mail,
subscribe to "RFE/RL Afghanistan Report."