Undersecretary of State Nicholas Burns said Iran has made a major miscalculation if it believes it has any support internationally for its actions.
Meanwhile, the U.S. State Department has given some details of Washington's little-publicized drive to cut off Iran from the global financial system.
Speaking to reporters in Paris, Burns said Iran must be aware that continued refusal to stop uranium enrichment means it faces possible new sanctions -- both inside and outside the framework of the United Nations.
Burns said the UN Security Council is preparing a third package of sanctions that should be ready in a few weeks. He said Iran must sit down and negotiate on its nuclear ambitions, or face the consequences.
The Security Council has imposed two rounds of sanctions on Iran since December, but these were relatively mild in order to gain the support of Russia and China, two veto-holding council members with doubts about a policy of sanctions. The results appear to be correspondingly few.
The third package now under discussion at the UN will reportedly be tougher, possibly aimed at Iran's oil supplies. Burns' comments appear to indicate Washington's belief that Russia and China are already "on board" with the new package.
Iranian leaders have consistently dismissed the importance of sanctions, and said Iran will never give up uranium enrichment.
President Mahmud Ahmadinejad stuck to that line today at a rally in Semnan, a city east of Tehran.
"The Iranian nation does not give the slightest value to your resolutions," he told the crowd in a nationally televised speech.
Sanctions Bite
Separately, however, the United States has been working quietly on sanctions outside the UN forum, and these appear to be already biting deep into Iran's financial standing in the world.
State Department spokesman Sean McCormack said at a Washington briefing that U.S. Treasury officials have been in discussion with some 40 international banks, with the aim of getting them to curtail their business with Iran.
McCormack named as an example the case of Bank Sepah, a major Iranian banking institution.
"This is an institution which has billions of dollars in assets," McCormack said. "[But] it effectively cannot do business anymore in the international financial system."
Another example is how the German government has cut back its export credits to Iran by some 40 percent. And at the urging of the United States, other European countries and Japan are looking at the same course of action, involving tens of billions of dollars in credits.
"Once the [Iranians] get themselves in this kind of situation where the international banking system does not want to take their business, won't touch them, won't touch their money, that is it -- it has severe consequences, and it is very difficult to reverse," McCormack said.
Iranian businessmen confirm that the U.S. financial sanctions are having a practical impact. AP quoted the vice president of the Dubai-based Iranian Business Council, Nasser Hashempour, as saying that financing has become a major problem.
Hashempour said that "no one accepts Iranian letters of credit," adding that the situation has prompted Iranians to move "out of Iran...to establish relations with foreign banks."
McCormack said Iran should know the situation will worsen unless the government in Tehran lives up to its responsibilities on the nuclear issue.
"Iran is soon going to find itself at a point where it will come very difficult for this regime to have a normal relationship with the international financial system," McCormack said. "It's already not normal, as indicated by the Bank Saleh. It's going to become increasingly more difficult for them, which has real consequences, has real financial implications for them."
Washington has also approached major energy companies -- notably Royal Dutch/Shell -- pointing out that they may come in for penalties on the U.S. market if they continue to be involved in big oil or gas development projects in Iran.
'A Golden Language'
'WISHES AND DREAMS' PHOTO GALLERY
Despite tensions between the United States and Iran, the Meridian International Center in Washington has organized an exhibition of Iranian art that focuses on young artists currently working in Iran. The exhibition is titled "Wishes and Dreams: Iran's New Generation Emerges," and it includes the work of 30 artists between the ages of 22 and 40.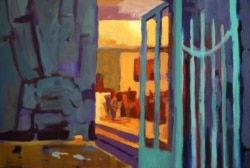 SUBSCRIBE
For regular news and analysis on Iran by e-mail,
subscribe to "RFE/RL Iran Report."