When she arrived in Russia, armed guards kept Maryam locked in a cell with barred windows, where she was forced to work as a prostitute.
Mara, a 30-year-old mother with a husband and two children, left Ukraine to work as a housekeeper in Italy, after employment recruiters had promised her a high salary.
When she arrived, Mara was taken to a brothel owned by a man who said he had purchased her for several hundred dollars. She was beaten if she refused a client.
These are two of the individual stories included in the U.S. State Department's "Trafficking In Persons Report 2007." The report was released in Washington on June 12 by U.S. Secretary of State Condoleezza Rice.
"We are helping to lead a global movement, not just to confront this crime, but to abolish it," Rice said. "More and more countries are coming to see human trafficking for what it is -- a modern-day form of slavery that devastates families and communities around the world."
Fighting Human Trafficking
Human trafficking involves the sale of people across international borders for forced prostitution or labor.
Some 80 percent of trafficking victims are female, and up to half are children.

"Every day, all over the world, people are coerced into bonded labor, bought and sold in prostitution, exploited in domestic servitude, enslaved in agricultural work and in factories, and captured to serve unlawfully as child soldiers," said Ambassador Mark Lagon, the director of the U.S. Office to Monitor and Combat Trafficking in Persons in presenting the report on June 12.
"Estimates of the number vary widely," he added. "According to U.S. government estimates, approximately 800,000 people are trafficked across international borders each year and about 80 percent of them are female. Up to half are minors."
The State Department's report classifies 164 countries into four categories of compliance with the U.S. Trafficking Victims Protection Act of 2000.
The worst category, Tier 3, includes nations that are seen as not complying and not making any significant efforts to do so.
A total of 16 states are listed as Tier-3 countries, including Iran, Uzbekistan, and North Korea. Also joining the worst offenders this year are U.S. allies Bahrain, Kuwait, Oman and Qatar.
"It's especially disappointing that so many wealthy countries in the Near East that aren't lacking adequate resources to make significant progress are on Tier 3," Lagon said. "For instance, Saudi Arabia is on Tier 3 for the third year. These are countries in that region that rely extensively on foreign migrant laborers."
Lagon said Tier-3 countries can be sanctioned if they do not take "serious antislavery action" in the next 90 days.
Room For Improvement
Tier-2 states do not fully comply but are seen as making significant efforts to do so, which this year include Afghanistan, Albania, Azerbaijan, Bosnia-Herzegovina, Bulgaria, Croatia, Estonia, Kyrgyzstan, Latvia, Macedonia, Montenegro, Pakistan, Romania, Serbia, Slovakia, Tajikistan, and Turkey.
A "Tier-2 Watch List" of nations deserve special attention, usually because of poor antitrafficking records for numerous consecutive years. This year, these countries include Armenia, Belarus, China, Kazakhstan, Moldova, Russia, and Ukraine.
"Unfortunately, too many major countries on the Tier-2 Watch List have ignored this warning year after year," Lagon said. "India, Mexico, and Russia are on the Tier-2 Watch List for the fourth consecutive year. Armenia, China, and South Africa are on Tier-2 Watch List for a third consecutive year."
Tier-1 countries are seen as fully complying with the U.S. Trafficking Victims Protection Act. In the 2007 report, Tier-1 states include the Czech Republic, Hungary, Lithuania, Poland, Slovenia, and, for the first time, Georgia.
"Georgia's performance is particularly notable, considering it's the only Tier-1 country in a region struggling to strengthen rule of law," Lagon told reporters on June 12. "Georgia has shown an admirable political commitment to confronting human trafficking. Its improvement includes efforts to prevent girls and women from being lured into the global sex trade, where exploiters turn women and girls into mere commodities with their bodies for sale."
U.S. Judged As Well
As for the United States itself, Lagon said the State Department estimates some 14,500 to 17,500 people per year are trafficked across the U.S. border.
So where does the State Department place the United States on its list? Lagon said the United States is "not perfect," but has not been assigned a tier rating. While the United States is not included in the individual country analyses, he said, the State Department report does contain a summary of the United States' record.
"It is very important that the United States be seen as a partner and that we have a problem at home. We are not just standing with our arms folded, judging others, because this is a transnational problem," Lagon said.
"There's serious trafficking in persons into the United States from East Asia, from Latin America, from Europe, and there's trafficking within the United States," he continued. "And we're ready to be judged because we offer our hand as a partner to try and solve this problem of modern-day slavery."
The report says Iraq was in "political transition" during the reporting period and was not included.
Turkmenistan also is not listed because it says available information was insufficient to substantiate a significant number of victims in the country.
The Battle Against Human Trafficking
The Battle Against Human Trafficking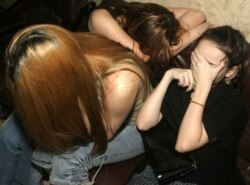 Uzbek women detained in Indonesia for prostitution in 2004. (epa)
Three countries in RFE/RL's broadcast region are singled out for particular attention in the U.S. State Department's "Trafficking In Persons Report 2007," released on June 12 in Washington. Uzbekistan and Iran are classified as Tier-3 countries, meaning they made little, if any, effort to combat trafficking, while Georgia was promoted to Tier 1, the best rating, for its considerable progress in a region "still struggling to strengthen the rule of law."

GEORGIA

Georgia climbed to Tier 1 after making "considerable progress" in trafficking prevention, victim assistance, and trafficker prosecution and punishment. The report says Georgia is both a source and transit country for women trafficked into commercial sexual exploitation, while men are trafficked as laborers within Georgia and the breakaway regions of Abkhazia and South Ossetia.

Georgia's recent adoption of comprehensive legislation establishes sufficiently harsh penalties for perpetrators of any type of human trafficking. Courts made 19 trafficking convictions in 2006, more than double the number of the previous year, with convicted traffickers receiving an average of 10 years in prison. The government investigated and prosecuted official corruption with ties to trafficking.

Victim assistance and protection services flourished, with a newly implemented referral mechanism coordinating state and NGO efforts to protect and rehabilitate victims of human trafficking. The government provided funding for myriad victim services, including counseling sessions and a trafficking shelter.

A concerted public-awareness campaign educated the general public about the dangers of trafficking, while the government provided specialized training to teachers, government officials, and hotline operators.

UZBEKISTAN

For the second consecutive year, the State Department report places Uzbekistan on Tier 3. Though more than 500,000 Uzbeks are estimated to be trafficked annually into sexual exploitation and forced labor (about 1.8 percent of the population), the Uzbek government has not made significant efforts to comply with the minimum standards for eliminating trafficking.

Weak, outdated legislation and penalties that guarantee even convicted traffickers serve no time in prison hindered effective prosecution of traffickers in Uzbekistan. Government officials were reportedly involved in trafficking-related bribery and fraud.

Victim protection, despite a few encouraging signs (such as police referring identified victims to shelters run by nongovernmental organizations), was nevertheless found wanting, with the government providing no victim or witness protection. This lack of provision for victims, combined with the absence of prison time for convicted traffickers, discouraged the vital cooperation of victims in legal proceedings.

The Uzbek government made modest attempts at trafficking prevention last year, airing antitrafficking information on state media. However, much remains to be done. Border personnel require additional training before they are adequately equipped to detect and prevent trafficking.

IRAN

Iran remains on Tier 3 for the second year in a row. The report says traffickers continue to exploit Iranian and Afghan women and children, forcing them into servitude and commercial sex slavery. Iranian women and girls are also trafficked to a variety of countries for commercial sexual exploitation. The report cites a media estimate that 54 Iranian females are sold into slavery every day.

While lack of access hindered a comprehensive picture of the trafficking situation within Iran, credible reports cited unambiguous abuses, such as the execution of trafficking victims for activities performed as a direct result of forced servitude. There were no reported prosecutions or convictions of traffickers in 2006, despite the fact that Iranian legislation technically forbids human trafficking and mandates severe punishment for convicted traffickers.

The Iranian government offers no protection to victims of trafficking, but instead has removed some to countries in which they might face retribution, prosecuted others for crimes of morality, and funded welfare houses in which abuse is reportedly rife. Victims are not encouraged to cooperate in prosecution of trafficking cases.

The report says Iran should bolster its nonexistent trafficking-prevention program by instituting a public-awareness campaign, increasing border security, and following more closely the travel of Iranian women and girls into countries to which they are commonly trafficked.

(compiled by Alexandra Holachek)