U.S. Sanctions Iranians Linked To Nuclear Program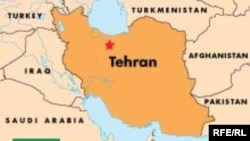 (RFE/RL) June 15, 2007 -- The U.S. Treasury Department says it will freeze the assets of two Iranians for their suspected involvement in the country's nuclear program.
The Treasury Department named Mohammad Qannadi, who it linked to the Atomic Energy Agency of Iran, and Ali Hajinia, who it said acted on behalf of the Mesbah Energy Company.
Any bank accounts or assets of the two men in the United States will be frozen and U.S. citizens are prohibited from doing business with them.
(AP, Reuters)

THE COMPLETE PICTURE: RFE/RL's complete coverage of controversy surrounding Iran's nuclear program.
CHRONOLOGY
An
annotated timeline
of Iran's nuclear program.