Alishah Paktiawal, the head of the Kabul police's criminal department, said the suicide bomber targeted a convoy of foreign military and civilian vehicles.
"It was 8:30 when a suicide bomber blew himself up near a convoy of foreigners," Paktiawal told reporters at the scene of the attack.
"As a result, four civilians were killed and another four wounded. A foreign soldier was also wounded. The bomber was driving a taxi and we believe he was aiming for the foreign convoy," Paktiawal added.
An RFE/RL Afghan Service correspondent on the scene quoted the police chief as saying eight Afghan vehicles and one foreign vehicle were destroyed in the "terrorist attack."
Some witnesses gave a higher casualty count than did police, saying seven or eight people had died.
A purported Taliban spokesman, Zabiullah Mujahid, later said that the group was responsible for the attack.
In the aftermath of the suicide bombing, Zalmai Khan, deputy Kabul police chief, said a U.S. soldier riding in a Humvee "mistakenly" opened fire on the crowd.
A U.S. military spokesman said two civilians were wounded in the incident. Afghan officials said one of the civilians had died of his wounds.
The U.S. military said the shooting was not deliberate, but an "accidental discharge."
Khan said Afghans were angered over the shooting and wanted to demonstrate, but that police calmed the situation down. Still, a crowd of between 50 and 100 people still gathered, with some chanting "Death to America" and jabbing their arms at police.
Speaking in Brussels on June 15, NATO Secretary-General Jaap de Hoop Scheffer said "concrete measures" must be taken by NATO to reduce civilian casualties.
In Kabul, a U.S. spokesman for troops training Afghan police and soldiers, Major Sheldon Smith, said today the coalition "never intentionally endangers the lives of innocent Afghan civilians" but that the Taliban routinely and intentionally uses explosive devices in heavily populated areas.
Hours after the attack in Kabul, two suicide bombers on motorcycles attacked a foreign military convoy in the northern city of Mazar-i-Sharif, killing at least one Afghan civilian and wounding 15.
On June 15, a suicide blast targeted a NATO convoy at Tirin Kot in southern Uruzgan Province, killing 10 people, including five children and a Dutch soldier.
A second suicide bomber attacked a NATO convoy in Kandahar in southern Afghanistan on June 15, wounding at least five civilians.
(with material from agency reports)
The Afghan Insurgency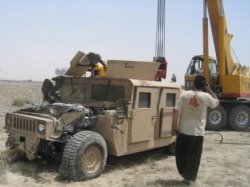 A U.S. military vehicle damaged by insurgents near Kandahar (epa)
HOMEGROWN OR IMPORTED? As attacks against Afghan and international forces continue relentlessly, RFE/RL hosted a briefing to discuss the nature of the Afghan insurgency. The discussion featured Marvin Weinbaum, professor emeritus of political science at the University of Illinois at Urbana-Champaign, and RFE/RL Afghanistan analyst Amin Tarzi.
LISTEN
Listen to the entire briefing (about 83 minutes):
Real Audio
Windows Media
ARCHIVE
RFE/RL's
coverage of Afghanistan
.
SUBSCRIBE
For weekly news and analysis on Afghanistan by e-mail,
subscribe to "RFE/RL Afghanistan Report."