Zebari, in London for discussions with Foreign Secretary Margaret Beckett, said he respected the right of Britain to decide who received the honor. But he said the decision could be used to cause trouble.
Rushdie's award has already sparked an angry response in Pakistan, Iran, Malaysia, and other Muslim parts of the world.
On June 19, the Iranian Foreign Ministry summoned the British Ambassador to Tehran, Geoffrey Adams, saying the decision to award Rushdie the title was regarded by Iran as a "provocative act."
Pakistan also delivered a similar message to Britain's envoy in Islamabad, High Commissioner Robert Brinkley.
Both replied that Rushdie -- who has penned many books besides "The Satanic Verses" -- was awarded for his overall services to literature and his honor should not be seen as a political gesture targeting Muslims.
Britain also said Brinkley had passed on London's "deep concern" at comments by Pakistan's Religious Affairs Minister Ijaz-ul-Haq that Rushdie's knighthood could motivate potential suicide attacks.
Pakistan's parliament has already formally condemned the move and demanded that Britain take back the title.
Elsewhere, there was also a small protest outside the British Embassy in Malaysia's capital, Kuala Lumpur, today, by supporters of a hardline Islamic party.
Years In Hiding
Rushdie became Sir Salman in Queen Elizabeth's June 16 birthday honors list.
The Indian-born Rushdie first pursued a career in advertising before turning to writing, winning Britain's prestigious Booker Prize for his 1981 novel "Midnight's Children."
"The Satanic Verses," published in 1988, angered many Muslims for its perceived disrespectful depiction of the Prophet Muhammad, his wives and companions.
Iran's late Ayatollah Khomeini the following year issued a fatwa, or religious edict, ordering Muslims to kill the author because the novel insulted Islam.
Rushdie spent the next nine years hiding in secret locations in the United Kingdom, under government protection.
Iran's government in 1998 said it would not support the original fatwa, though some groups have said it is irrevocable.
Since then Rushdie has appeared in public more and more.
(compiled from agency reports)

Islam In A Pluralistic World
Islam In A Pluralistic World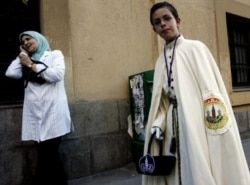 A Muslim woman (left) watches a Christian procession in Madrid in March (AFP)


READ
CONFERENCE ON ISLAM:
A major international conference on Islam concluded in Vienna in November 2005 with strong appeals from prominent Muslim leaders to recognize international terrorism as simply "terrorism." Political figures from Islamic countries, including the presidents of Iraq and Afghanistan, argued that it should never be labeled "Islamic" or "Muslim" terrorism because Islam is based on peace, dialogue, and tolerance. "Salaam" -- meaning "peace" -- was the key word of the three-day conference, titled "
ISLAM IN A PLURALISTIC WORLD
."
Iraqi President Jalal Talibani and Afghan President Hamid Karzai used the word in their remarks to emphasize the peaceful nature of Islam. Other speakers quoted passages from the Koran to the effect that all men and women, regardless of faith, are creatures of God and should live in peace with each other without discrimination
...(more)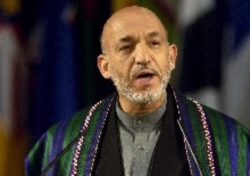 LISTEN
Listen to Afghan President
HAMID KARZAI
's complete address to the Vienna conference (in English):
Real Audio
Windows Media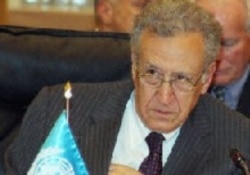 LISTEN
Listen to UN special envoy
LAKHDAR BRAHIMI
's complete address to the Vienna conference (in English):
Real Audio
Windows Media
THE COMPLETE PICTURE:
Click on the image to view a thematic webpage devoted to issues of religious tolerance in RFE/RL's broadcast region and around the globe.