Tajik Parliament Passes Amnesty Bill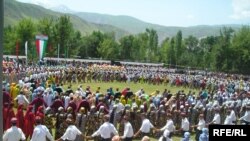 June 27 is celebrated as the Day of National Unity (file) (RFE/RL) June 20, 2007 (RFE/RL) -- Tajikistan's lawmakers have passed a bill amnestying some participants in the country's civil war in the 1990s, in the run-up to the tenth anniversary of the accord that ended the war.
Women, juveniles, and elders are also included in the amnesty.
It would not apply to anyone convicted of killings, human and drug trafficking, terrorism, or rape.
President Emomali Rahmon has to ratify the text before it becomes law.
The move comes ahead of the tenth anniversary on June 27 of the National Peace Accord that ended the 1992-1997 civil war.
(RFE/RL's Tajik Service, Avesta, ITAR-TASS)