Kazakhs Change Name Of City Linked To Nuke Tests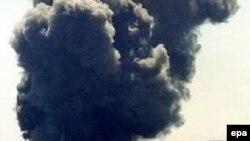 Kazakhstan shut down the Semipalatinsk test site in 1991 and later demolished its infrastructure in a series of explosions like this one in 2000 (epa) June 21, 2007 (RFE/RL) -- Kazakhstan has changed the name of the northeastern city of Semipalatinsk because it is associated with Soviet-era nuclear tests.
President Nursultan Nazarbaev signed a decree today changing the city's name to Semey.
Nazarbaev said earler this month the name "Semipalatinsk" carried negative associations that put off foreign investors.
The Semipalatinsk district was used as a Soviet nuclear test ground between 1949 and 1989.
(RFE/RL's Kazakh Service, Interfax-Kazakhstan)