"In my view ... the question of placing elements of the missile-defense system in Europe has already been decided by Washington," the chief of Russia's general staff, General Yury Baluyevsky, told a news conference. "The initiative put forward by Russia will not receive a positive response from the current U.S. administration."
President Vladimir Putin suggested earlier this month that a U.S. missile-defense system could use a radar station in Azerbaijan.
The offer came amid a row over U.S. plans -- opposed by Moscow -- to site parts of the system in Poland and the Czech Republic.
Russia says the missile shield is a threat to its national security and has warned it could respond by aiming its nuclear missiles at European targets.
Putin and U.S. President George W. Bush are expected to discuss the issue early next month when they meet in the United States.
(Reuters, AFP)
Moscow And Washington: Toe To Toe
Moscow And Washington: Toe To Toe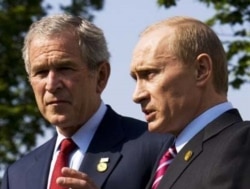 U.S. President George W. Bush (left) and Russian President Vladimir Putin at the G8 summit in Germany on June 7 (AFP)

MOUNTING TENSIONS. Relations between Russia and the United States have grown increasingly tense in recent months as issues like missile-defense, Kosovo's status, and Russia's domestic policies have provoked sharp, public differences. On June 5, U.S. President George W. Bush said democratic reforms in Russia have been "derailed"....(more)
RELATED ARTICLES
Silent Diplomacy Versus Public Criticism
Analysts Say New Arms Race Unlikely
Moscow's Patience With U.S., Allies 'Wearing Thin'
Russian Parliament Accuses U.S. Of Election Meddling
MORE: A special archive of RFE/RL's coverage of U.S.-Russian relations.