Ahead of the meeting in Vienna, Iran again ruled out suspending its uranium enrichment program, as demanded by the UN Security Council.
Larijani, who serves as Iran's top nuclear negotiator, is expected to meet in Portugal on June 23 with the European Union's foreign policy chief, Javier Solana, for talks on ways to settle the standoff over Iran's nuclear program.
Iran's Interior Minister Mostafa Purmohammadi says Tehran has 100 kilograms of enriched-uranium material in storage -- or about 20 percent of what is needed for one nuclear bomb.
The ISNA news agency reports that Purmohammadi made the claim in a speech in southwestern Iran on June 21.
Uranium enrichment is a process to make fuel for nuclear power plants that can also provide material for atom bombs.
(AFP, Reuters)
Battling Nuclear Proliferation
Battling Nuclear Proliferation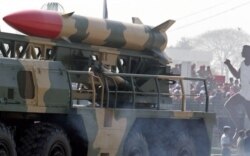 A nuclear-capable, short-range missile on display in Islamabad, Pakistan, in March (AFP)


IS PROLIFERATION INEVITABLE? On June 18, RFE/RL hosted a briefing featuring Henry Sokolski, executive director of the Nonproliferation Policy Education Center. Sokolski discussed the challenges to the global nonproliferation regime and what Western countries can do to strengthen it.
LISTEN
Listen to the entire briefing (about 60 minutes):

Real Audio
Windows Media
RELATED ARTICLES
El-Baradei Says Attack On Iran Would Be Catastrophic
Rogue Nuclear Programs Threaten New Arms Race
Why Shouldn't Pyongyang Join Nuclear Club?
U.S. Official Outlines Concerns About Iran's Nuclear Program