Germany Steps Up Antiterrorism Security Measures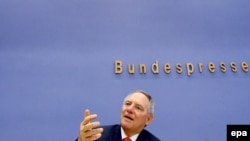 Wolfgang Shaeuble (file) (epa) June 22, 2007 -- German authorities have stepped up vigilance against possible terrorist attacks on German soil.
Interior Minister Wolfgang Schaeuble said the threat was "serious" and that suicide attacks were possible.
He said new evidence suggested terrorist training groups in Afghanistan had become stronger and were preparing suicide attacks in Europe, including Germany.
Schaeuble's comments follow recent German media reports that several people from Germany had joined terror training camps in Afghanistan and Pakistan.
(Reuters, dpa)