Chechens Protest Searches In Soldier Disappearance Case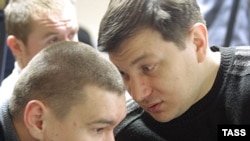 Eduard Ulman (right) and co-defendant Aleksandr Kalagansky (file photo) (ITAR-TASS) GROZNY, Russia; June 28, 2007 (RFE/RL) -- Several hundred people have rallied in the Chechen capital, Grozny, to protest searches and interrogations in connection with the disappearances of three Russian soldiers convicted of killing civilians, RFE/RL's Russian Service reported.
A Russian military court on June 14 sentenced Eduard Ulman and three other Russian soldiers to long prison terms for killing six civilians, including a pregnant woman, in the war-ravaged Russian republic five years ago.
Three of the defendants have been missing since April and were tried in absentia.
The Prosecutor-General's Office has ordered the searches to investigate the possibility that the three men were abducted.


RFE/RL's complete coverage of Russia's war-torn Republic of Chechnya.
CHRONOLOGY
An
annotated timeline
of the Chechnya conflict.