Russian Soldiers Sentenced For Killing Chechen Civilians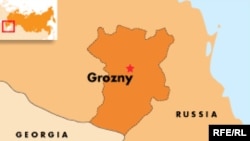 (RFE/RL) June 14, 2007 (RFE/RL) -- A military court in southern Russia has sentenced four soldiers for killing six civilians in Chechnya, RFE/RL's North Caucasus Service reported.
The case, which failed to secure convictions in two earlier civilian jury trials, is seen as a test of Moscow's willingness to acknowledge atrocities by federal troops.
The court in Rostov-na-Donu handed down sentences ranging between nine and 14 years.
The stiffest sentence went to Eduard Ulman, who was commanding the unit in January 2002, when the soldiers opened fire on a civilian vehicle and killed the survivors, including a pregnant woman.
Nikolai Gulko, a judge with the North Caucasus District Military Court, said Ulman was sentenced to serve a 14-year term at a high-security correctional facility.
Guilty, But Absent
Today's ruling is complicated by the fact that Ulman and two of the other three defendants were tried in absentia. The three men failed to turn up for a hearing in April and have not been seen since.
Major Aleksei Perelevsky, the only defendant to appear in court, received a nine-year sentence. The others received sentences of 11 and 12 years.
Prosecutors had requested terms ranging from 18 to 23 years.
Nikolai Titov, a state prosecutor, said he was satisfied with the ruling.
"The North Caucasus District Military Court issued a guilty verdict today, and I don't think it's a big tragedy that the sentence pronounced was shorter than what the state prosecutors had asked for," Titov said in televised comments to journalists.
"It is the right of the court to give its assessment to each act committed by the accused and sentence them within the terms determined by the article of the law under which they were convicted," he added.
Juries in the two previous trials acquitted the four soldiers, who said they were following orders from their superiors in the army's Main Intelligence Directorate, or GRU.
Ruling Welcomed
Human-rights defenders in Moscow said today's court decision sends an important message to the Russian military that summary justice is not excusable.
Murad Musayev, a lawyer for the families of the slain civilians, said justice would not be served until the three absent soldiers are located and forced to carry out their sentences.
"We're pleased with the guilty verdict, but of course we wish it could be carried out immediately," Musayev said. "But we hope that law-enforcement agencies are pursuing those convicted and will find them soon."
Lawyers for the defendants say they don't know the location of the three missing soldiers, who have been placed on a federal wanted list.
Prosecutors and relatives of the victims say they believe Ulman and the other two soldiers have gone into hiding in order to avoid punishment.
Rights activists say Russian federal forces and allied Chechen militias are responsible for mass atrocities directed at Chechnya's civilian population during Moscow's two wars in the North Caucasus republic.
(with material from agency reports)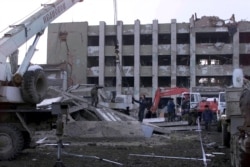 The aftermath of a December 2002 Chechen resistance attack on the main government building in Grozny (epa)


CHRONOLOGY
The
fighting in Chechnya
has raged, with short breaks, since 1994. It has brought misery, death, and destruction to the North Caucasus republic and to Russia as a whole. View an
annotated timeline
of the conflict.

ARCHIVE
RFE/RL's complete coverage of Russia's war-torn Republic of Chechnya.