Serbs Mark Anniversary Of 1389 Battle Of Kosovo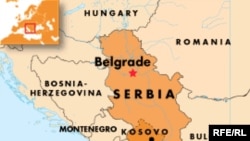 (RFE/RL) June 28, 2007 -- Hundreds of Serbs in Kosovo have marked the anniversary of a medieval battle central to their claim to the province.
Local and international security forces stood by during the rally in the town of Gazimestan as participants celebrated the 1389 Battle of Kosovo between Serbs and Ottoman Turks.
The battle, which the Serbs lost, is a key symbol of Serbian nationalism.
The rally came amid tension ahead of a final international decision on the United Nations-administered province's status.
No serious incidents occurred, although some arrests were made.
(AFP, Reuters)

SUBSCRIBE
For a regular review of politics, media, and RFE/RL broadcasts in the western Balkans,
subscribe to "RFE/RL Balkan Report."