The sole foreign broadcaster now using the public airwaves is U.S. Congress-funded Radio Free Europe/Radio Liberty (RFE/RL).

RFE/RL's Armenian Service Director Hrair Tamrazian says the voting broke down along party lines, with the majority ruling party easily overcoming opposition deputies.

He said that the bill, which included two amendments, one to the law on TV and radio and the other one on taxes, is "about RFE/RL's operation in Armenia." Seventy-nine deputies in the parliament voted for the bill, with 16 against, and one absentention.

If it passes a second reading due on July 2, Armenia's public broadcasting frequencies would be closed to foreign broadcasters.

Public Airwaves Sovereign?
The top U.S. diplomat in Yerevan, Charge d'Affaires Anthony Godfrey, told RFE/RL that he met today with Tigran Torosyan, the speaker of the Armenian parliament, shortly before the vote to express U.S. concerns over the bill.
"This issue was the first issue that I discussed with the chairman of the parliament," Godfrey said. "I talked about our concerns, and our concerns that the effect of this law could be to restrict the broadcasts of and the ability of Radio Liberty to get its broadcasts out to the voters of Armenia. We are very proud of the work that Radio Liberty has done."

Today's debate in parliament saw ruling party deputies argue that public broadcasting airwaves in a sovereign country should not be open to foreign broadcasters.

RFE/RL's Tamrazian notes that Justice Minister Gevorg Danielian, who presented the bill and is a member of the ruling party, said that there is no country where public radio would broadcast programs of other countries' broadcasters.

Opponents of the bill argued that many countries, including neighboring Georgia and Azerbaijan, do open their public airwaves to foreign media.

Tamrazian says the opposition charges the government with trying to control the media. "The opposition says that RFE/RL is serving the Armenian public and the public interest because this is the only alternative news source that Armenia has after the closure of A1+, which was an independent TV channel which was closed several years ago," he says. "And in fact, Armenia has no independent electronic media, as they say, right now."

International Criticism

The action comes some eight months before Armenia holds presidential elections, in which current President Robert Kocharian cannot run for a third term.

The proposed legislation also would create sharp disincentives for private Armenian radio stations to carry foreign broadcasters' programs.
Under the proposal, private Armenian broadcasters would have to pay more than $200 in taxes each time they retransmit a program produced by a foreign media organization.
That is 70 times more than broadcasters must pay for a locally made program.
The proposal
has drawn sharp criticism
from the Organization for Security and Cooperation in Europe (OSCE), and international media-rights groups.
Asked what leverage Washington might have to persuade Armenian lawmakers to reconsider the bill, U.S. envoy Godfrey said he would not address a hypothetical situation. But he mentioned the U.S. government-funded Millennium Challenge account.
Under that program, Godfrey said Armenia currently qualifies for more than $230 million in U.S. aid. But he said that the program's board is due to meet again in December to decide whether countries such as Armenia still meet the criteria, which include issues of free media and democracy:
"We said [to Torosyan] if the effect [of the bill] would be to have limits or restrictions on the broadcasts of RFE/RL, then that would certainly not seem to be in line with Armenia's commitment to improving its democratic institutions," Godfrey said. "The speaker of the parliament said that the effect of the law, or the direct impact of the law, was not intended to restrict RFE/RL. But frankly, we're studying that still. And we're not convinced."
Godfrey added that he had also spoken with Armenian Prime Minister Serge Sarkisian, who he said assured him that the bill would not restrict RFE/RL broadcasts.

According to independent research, from 15 to 18 percent of the Armenian population over 15 years of age listens to RFE/RL's Armenian-language service every week. Respondents rate the radio the first- or second-most popular station along with Armenian public radio.
The Erosion Of CIS Press Freedom
The Erosion Of CIS Press Freedom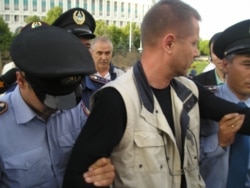 Prominent Kazakh journalist Sergei Duvanov being arrested in Almaty last month (RFE/RL)
FROM BAD TO WORSE. RFE/RL and Freedom House experts held a panel discussion at which they analyzed the erosion of press freedom in many CIS countries. According to Freedom House rankings, in 1994, six of the 12 CIS countries were rated "partly free"; by 2004, 11 of the 12 were rated "not free."
LISTEN
Listen to the entire briefing (about 70 minutes):

Real Audio
Windows Media
SUBSCRIBE
For regular news and analysis on media issues throughout RFE/RL's broadcast area by e-mail,
subscribe to "RFE/RL Media Matters."