The U.S.-based human rights group said in a statement that the bill would "clearly restrict access to a crucial independent news source" and deal a blow to "RFE/RL and to freedom of the media in general."
RFE/RL President Jeffrey Gedmin said in a statement that passage of the bill would "set a dangerous precedent for public media in all of the countries of the former Soviet Union."
Gedmin expressed the hope that "Armenia's parliamentarians will reconsider their support for this flawed bill."
The proposal would block access to certain frequencies and heavily fine the domestic retransmission of foreign-made broadcast programs.
It would also impose a tax of 70,000 Armenian drams, or more than $200, per program per day for every time a private station rebroadcast a foreign-produced program.
The bill has drawn sharp criticism from the OSCE, media rights groups, and Armenian opposition leaders.
The parliament in Yerevan on June 29 passed the bill but must confirm that vote in a second reading expected on July 2.
The Erosion Of CIS Press Freedom
The Erosion Of CIS Press Freedom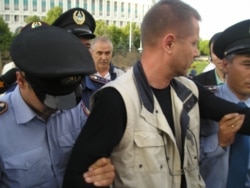 Prominent Kazakh journalist Sergei Duvanov being arrested in Almaty last month (RFE/RL)
FROM BAD TO WORSE. RFE/RL and Freedom House experts held a panel discussion at which they analyzed the erosion of press freedom in many CIS countries. According to Freedom House rankings, in 1994, six of the 12 CIS countries were rated "partly free"; by 2004, 11 of the 12 were rated "not free."
LISTEN
Listen to the entire briefing (about 70 minutes):

Real Audio
Windows Media
SUBSCRIBE
For regular news and analysis on media issues throughout RFE/RL's broadcast area by e-mail,
subscribe to "RFE/RL Media Matters."