His office quoted him as telling the National Elections Commission that "it does not matter who wins, as long as the victor is a son of Iraq and works in the interest of its people."
Although Iraq held its first full-term parliamentary elections in December 2005, it has never elected leaders to the country's 18 governorates.
In another development, Iraqi police say a suicide car bomber killed five police officers today in Al-Ramadi, a town in the western, Sunni-dominated Al-Anbar Governorate.
Meanwhile, a new report by the Iraqi government indicates the number of civilians killed in violence in Iraq dropped sharply to just under 1,250 civilians during the month of June.
United Nations monitors, who no longer receive official casualty figures, are unable to independently verify the report.
(compiled from agency reports)
Searching For A Way Forward
Searching For A Way Forward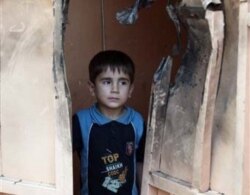 A boy looks out from his Baghdad home (AFP)
LOOKING BEYOND AL-MALIKI: RFE/RL Iraq analyst Kathleen Ridolfo led an RFE/RL briefing about the changing political landscape in Iraq, focusing on efforts to gain the upper hand in the event that the government of Prime Minister Nuri al-Maliki falls.
LISTEN
Listen to the entire briefing (about 70 minutes):

Real Audio
Windows Media
RELATED ARTICLES
Opposition Appears Set On Bringing Down Al-Maliki
Former Premier Pushing New Plan For Reconciliation
Al-Sadr Prepares For Post-Coalition Era
Sunni Ultimatum Rocks Al-Maliki's Position


THE COMPLETE STORY: RFE/RL's complete coverage of events in Iraq and that country's ongoing transition.