New Wave Of Baghdad Bombings Kills 34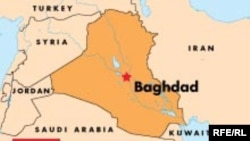 (RFE/RL) July 8, 2007 -- Iraqi officials say at least 34 people were killed in separate bombings across the Iraqi capital today, with some 23 army recruits believed to be among the dead.
Today's attacks follow a July 7 truck-bomb blast in a market in the northern Iraqi town of Tuz Khurmato that killed up to150 people, including many women and children.
Meanwhile, a U.S. official said today the bodies of an Iraqi husband and wife who worked for the U.S. Embassy in Baghdad have been found.
The Al Qaeda-led militant group Islamic State in Iraq claimed responsibility for their slaying in a message posted on the Internet on May 31.
The U.S. military also announced today that one of its soldiers was killed in combat on July 7 in Salah Al-Din Governorate, north of Baghdad. It did not provide details.
(compiled from agency reports)