Iran Claims New Evidence Against Two U.S.-Iranians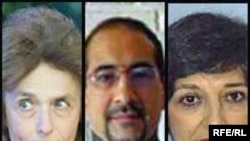 Haleh Esfandiari, Kian Tajbaksh, and Parnaz Azima (RFE/RL) July 10, 2007 -- Iran says it has new evidence linked with national security charges against jailed U.S.-Iranian scholars Kian Tajbakhsh and Haleh Esfandiari.
The announcement was made today by judiciary spokesman Alireza Jamshidi.
Iran confirmed in May that it had filed charges against three U.S.-Iranian citizens: Tajbakhsh, Esfandiari, and journalist Parnaz Azima, who works for the U.S. government-funded Radio Farda. All three are suspected of acting against Iran's national security.
The charges against the Iranian-Americans were leveled amid recent Iranian claims that spy networks with links to U.S. agents are operating in Iran. Officials today claimed to have uncovered five new espionage networks allegedly linked to Western intelligence services.
(AFP)