Esfandiari, who is an Iranian-born U.S. citizen, had traveled to Iran in December to visit her 93-year-old grandmother.
Iran confirmed the arrest of Esfandiari five days after she was detained in Tehran on unknown charges.
Foreign Ministry spokesman Mohammad Ali Hosseini told a news conference in Tehran on May 13 that the 67-year-old Esfandiari's arrest was based on Iranian law. He added that she would be treated like other Iranian nationals, and declined to say why Esfandiari was arrested or what charges she might face.
While it technically does not allow dual citizenship, Iran routinely turns a blind eye in issuing passports to Iranians living abroad.
Esfandiari, the director of the Woodrow Wilson International Center in Washington's Middle East program, was taken to Tehran's Evin prison on May 8. That facility is frequently used to house prisoners that the country's leadership regards as a possible threat, including its strongest critics.
On December 30, near the end of Esfandiari's visit to Iran, three masked and armed men stole her U.S. and Iranian passports. Instead of replacing her passport, Esfandiari was repeatedly summoned by intelligence officials for protracted interrogations. Questions reportedly centered on the activities and program of the Wilson center.
Serious Allegations
Esfandiari's arrest came amid a crackdown on Iranian activists, including women's rights advocates and students. It also comes at a time of heightened tensions between the United States and Iran.
Iranian officials have warned that foreign enemies are using Iranian activists and critics to instigate a "soft revolution" in Iran.
On May 12, Iranian state television used a commentary to accuse "media affiliated with the White House and some U.S. officials" of using the Esfandiari case as a " new project" to apply psychological pressure on Iran.
In a reference to Israel's intelligence and covert-operations agency, he commentary described Esfandiari as a "Mossad spy." He also claimed she has been active in efforts to create a "velvet coup d'etat" in Iran.
The hard-line daily "Kayhan" on May 12 accused Esfandiari of involvement in efforts to topple Iran's Islamic regime. It said she was a main element of Israeli efforts to spur revolution in Iran.
Esfandiari's husband, university professor Shaul Bakhash, has rejected the accusation against his wife as "false" and "hollow." In a statement to the media -- including Radio Farda -- Bakhash said it is "a lie" that his wife had "undercover assignments" or was a "media spy" in Iran.
Continuing Clampdown
Critics say the increased state pressure on Iranian intellectuals, journalists, and civil-society activists is an indication of the leadership's growing fear of a soft or color revolution. The U.S. allocation of $75 million to promote democracy in Iran has added to tensions.
In recent months, Iranian officials have appeared increasingly suspicious of contact by Iranian activists with the outside world, particularly Western institutions. Several journalists and rights activists who traveled outside the country for seminars or other public forums have been detained or summoned to appear before a court. Several have been prevented from leaving the country to participate in conferences or other events.
One journalist, Ali Farahbakhsh was sentenced in March to three years in prison on charges of espionage and receiving money from foreigners. Farahbakhsh was arrested in November after returning from a conference in Thailand.
Ramin Jahanbegloo, a prominent author and philosopher, was jailed for several months in 2006 and then released after confessing that he was a victim of U.S. efforts to undermine the Iranian government and that contacts with Western organizations had led to his being duped into "political" rather than philosophical work. His colleagues and rights activists dismissed the comments and said there were signs that the confessions were coerced as part of a deal to grant Jahanbegloo his freedom.
'Soft Hostages'?
There is now concern that Esfandiari could face pressure to issue a similar confession.
On May 10, the Wilson Center said in a statement posted on its website that during interrogations, Esfandiari "was pressured to make a false confession or to falsely implicate the Wilson Center in activities in which it had no part."
Observers have warned that Esfandiari's imprisonment could add to Iran's international isolation.
Esfandiari has published numerous articles and books, including one on the situation of Iranian women following the 1979 Islamic revolution.
Esfandiari is reportedly one of three individuals with dual Iranian-American citizenship that authorities have prevented in recent months from leaving Iran. Radio Farda broadcaster Parnaz Azima has been under a virtual house arrest in Tehran for four months. The identity of the third individual is unclear, but some U.S. media have described the trio as "soft hostages."
World Press Freedom Day
NOT REALLY SO FUNNY:
The Paris-based World Association of Newspapers asked French cartoonist Michel Cambon to produce a series of cartoons on the theme of jailed journalists to mark World Press Freedom Day (May 3). Below, RFE/RL reproduces several of Cambon's cartoons.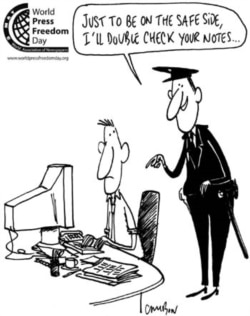 (WAN/Cambon)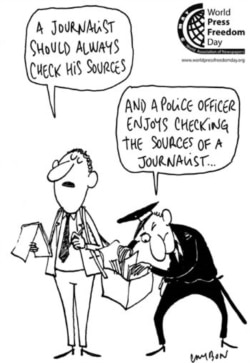 (WAN/Cambon)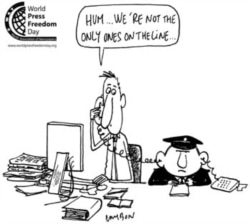 (WAN/Cambon)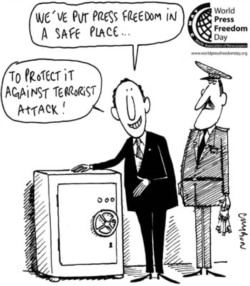 (WAN/Cambon)



RELATED ARTICLES
Threats To Press Freedom Growing More Severe
CIS Press Freedom Suffers Continued Decline
Pressure Mounting On Russian Opposition, Media
Uzbek Government Increases Its Blocking Of News Websites
ARCHIVE
To view an archive of RFE/RL's coverage of media-related stories, click here.
SUBSCRIBE
For regular news and analysis on media issues throughout RFE/RL's broadcast area by e-mail,
subscribe to "RFE/RL Media Matters."