Rights Group Criticizes Iran Over Alleged Abuses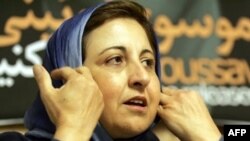 Shirin Ebadi has been an outspoken civil-rights defender, earning her the Nobel Peace prize in 2003 (AFP) July 15, 2007 -- A rights group led by Nobel Peace laureate and rights lawyer Shirin Ebadi has criticized Iran for alleged continued abuses in the country.
Ebadi's Defenders of Human Rights Center on July 14 accused Iranian authorities of executing people who committed crimes before they were 18 years old and cracking down on academics and union members.
The statements come just days after the prominent leader of a bus drivers union, Mansur Osanlu, was reported abducted in Tehran. Osanlu's wife says he has ended up in Tehran's Evin prison.
The criticism also comes amid Western outcry over the official confirmation of a stoning sentence carried out by Iranian authorities despite a judiciary moratorium on the grisly practice.
The Defenders of Human Rights Center also said the situation for women in Iran is "worrying," and that members of the Bahai religious sect are being persecuted for their beliefs.
(AFP, Reuters)