Jafar Kiani was stoned to death in a small village in the province of Qazvin. He was in his late 40s and had spent the last decade in prison after the adultery conviction.
He is the latest casualty of strict Islamic laws as applied since Iran's Islamic revolution in 1979.
The grim sentence came despite a five-year-old moratorium on stonings that rights groups fear is sometimes ignored.
Activists are warning that his partner -- who reportedly was jailed at the same time, 11 years ago -- could face a similar fate.
The Stop Stoning Forever Campaign broke the news of Kiani's death on July 8, while the reformist "Etemad" daily and other news sources reported the next day that the stoning had been carried out.
'Definitive' Sentence
An Iranian judiciary spokesman, Alireza Jamshidi, today confirmed that the stoning took place in the village of Aghche Kand, adding that the verdict was implemented because it was "definitive."
The head of Iran's judiciary, Ayatollah Mahmud Hashemi Shahrudi, declared a moratorium on stonings in 2002.
Iran's Nobel Peace Prize winner, rights lawyer Shirin Ebadi, argued to Radio Farda that the practice contravenes human rights principles.
"I'm very regretful that the stoning sentence was carried out, because this sentence is not in line with Iran's international commitment -- and moreover [the head of Iran's judiciary] has issued several rulings that stoning sentences should not be carried out," Ebadi said.
Scant Protection
Judiciary spokesman Jamshidi claimed today that the policy on stoning has not changed, but he added that judges can act independently.
The stonings of Kiani and his partner, Mokarameh Ebrahimi, had been scheduled to take place on June 21. But they were delayed in the face of Iranian and international protests.
On June 20, a judiciary official was quoted by Iran's Fars News Agency as saying that the stoning sentence in Takestan had been suspended. That announcement was welcomed by human rights activists, who have repeatedly called on Iran to remove stoning as a form of punishment from its books. (Read Iran's law on adultery.)
But the recent news of Kiani's stoning has raised alarm and outraged activists and rights advocates who consider stoning among the cruelest of punishments.
It is also a gory spectacle. Condemned men are buried up to their waists, and women up to their chests, with their hands tied behind their backs before they are pelted with rocks until they die. Islamic code prescribes that the stone used for stoning "should not be so big as to kill the offender with one or two stones" and "nor should it be as small as pebbles." (Read Iran's law on the implementation of stoning.)
Condemned Parents
Soheila Vahdati is the international coordinator of the Stop Stoning Forever Campaign. She tells RFE/RL that there is now growing concern about the fate of Ebrahimi, who was convicted along with Kiani and is apparently still in prison.
"It is very worrying that the sentence was carried out despite all the protests from all over the world that were heard by the judiciary and Iran's authorities," Vahdati said. "We've been [informed] that both of them were supposed to be stoned but that since Women's Day was celebrated last week in Iran, Mokarameh [Ebrahimi] was not stoned. But it appears that she is also due to be stoned."
The judiciary spokesman has described Ebrahimi's sentence as still "halted."
The Stop Forever Stoning Campaign reports that Ebrahimi and Kiani were arrested 11 years ago while living in what was described as an adulterous relationship. Together they have two children who are believed to live in prison with their condemned mother.
Judiciary Power
According to Islamic law as applied in Iran, eyewitness testimony, a confession, or a judge's knowledge is sufficient evidence for an adultery conviction.
Kiani and Ebrahimi were condemned to death on the basis of a judge's knowledge.
Vahdati says details about Ebrahimi and her children's fate are sketchy.
"Unfortunately we don't have exact reports. Even her lawyer, Said Eghbali, who has been representing her for eight months, has been unable to see her [court] file," Vahdati said. "We don't have enough information about her situation. We know that she has two children who are with her in prison -- we don't know the exact age or sex of the children. But activists from the campaign in Iran are going to investigate and go to Takestan to find firsthand information. They want to do their best to prevent another stoning being carried out secretly."
It is unclear how many stoning sentences have been issued or carried out since the five-year-old moratorium was declared.
Reports in late 2006 suggested that at least two people had been stoned to death earlier in the year and at least eight women faced stoning sentences.
Before today, Iranian officials had denied that any stonings had taken place since 2002. The statements on Kiani's stoning appear to mark the first instance of such an execution being confirmed by Iranian authorities.
Activists who are campaigning for stoning to be abolished in Iran say that Kiani's stoning last week was carried out in public by local officials and security forces. They say only a small number of villagers participated.
The Structure Of Iran's Government
The Structure Of Iran's Government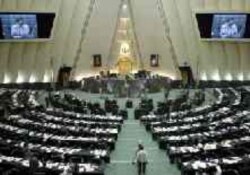 INSIDE THE ISLAMIC REPUBLIC: Iran is a theocratic Islamic republic governed under a 1979 constitution that was revised in 1989, when presidential powers were expanded and the prime minister's post was abolished.
Appointed -- not elected -- offices and bodies hold the real power in the government. The supreme leader, who serves as a chief of state would, is appointed for life by an Islamic religious advisory board that is called the Assembly of Experts. The supreme leader oversees the military as well as the judiciary and appoints members of the Guardians Council and the Expediency Council.
The Guardians Council -- some of whose members are appointed by the judiciary and approved by the parliament -- works closely with the government and must approve political candidates and legislation passed by the parliament. The Expediency Council is responsible for resolving legislative disputes that may arise between parliament and the Guardians Council over legislation.
The president, who is popularly elected for a four-year term, serves as the head of government. The legislative branch is made up of a 290-seat body called the Majlis, whose members are elected by popular vote for four-year terms...(more)
ARCHIVE
RFE/RL's
coverage of Iran
.