Russian Foreign Ministry spokesman Mikhail Kamynin said such steps "will allow us to more effectively settle the denuclearization of the Korean peninsula."
The North said last week it would consider closing down the reactor as soon as it received the first shipment of oil from South Korea under a February aid-for-disarmament deal.
The North's KCNA news agency cited one of its spokespeople today as saying the reactor was shut down after Pyongyang received the first shipment of oil.
In Washington, White House national security adviser Stephen Hadley said it appeared Yongbyon, which produces weapons-grade plutonium, had been shut down.
UN inspectors were due to begin testing today whether Yongbyon had stopped operating.
U.S. envoy Christopher Hill says Washington regards the reactor shutdown as "just the first step" toward nuclear disarmament in a deal for fuel and other aid to North Korea.
Hill has announced plans to meet on July 17 with his North Korean counterpart.
(dpa/AFP)
The Proliferation Threat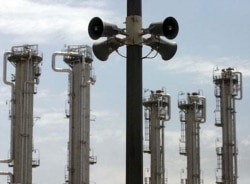 The Arak heavy-water plant in central Iran (Fars)


BENDING THE RULES. Henry Sokolski, executive director of the Nonproliferation Policy Education Center, told an RFE/RL-Radio Free Asia briefing on January 9 that the West is hamstrung in dealing with Iran and North Korea because of the way it has interpreted the international nonproliferation regime to benefit friendly countries like India and Japan.
LISTEN
Listen to the entire briefing (about 90 minutes):

Real Audio
Windows Media
RELATED ARTICLES
Iran, North Korea Present Proliferation Challenges
Tehran Watches As North Korea Tests Global Resolve
Rogue Nuclear Programs Threaten New Arms Race
Why Shouldn't Pyongyang Join Nuclear Club?