Russia's UN Ambassador Vitaly Churkin said the draft by U.S. and European powers was a stealth move toward independence, despite its call for 120 days of further talks between Belgrade and Pristina.
The draft was the fourth on Kosovo to be considered by the UN Security Council in recent months.
Russia, a veto-wielding member of the Security Council, backs Serbia in opposing the possibility of independence for Kosovo.
UN Secretary-General Ban Ki-moon on July 16 urged the Security Council to vote quickly on a draft resolution to settle Kosovo's future status, saying "a further delay or prolongation is not desirable."
On July 13, U.S. Ambassador Zalmay Khalilzad threatened to move forward on Kosovo outside the Security Council whether or not Russia agreed to the resolution.
(Reuters)

Final Status For Kosovo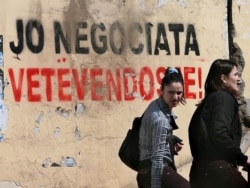 Pro-independence graffiti in Prishtina (epa)

FINALLY STATUS? Sabine Freizer, director of the Crisis Group's Europe Program, told an RFE/RL briefing that deep divisions in the UN Security Council make it uncertain what form Kosovo's future status might take.
LISTEN
Listen to the entire briefing (about 70 minutes):

Real Audio
Windows Media
ARCHIVE
RFE/RL's coverage of
Kosovo
. The website of
RFE/RL's South Slavic and Albanian Language Service
.