"If there is no independence for Kosovo, we will be forced to act as KLA soldiers," Faik Fazliu, the leader of the veterans of the Kosovo Liberation Army (KLA), told RFE/RL today. "We have fought for our freedom and for an independent Kosovo."
Fazliu's statement follows an announcement published by KLA veterans in several Kosovo newspapers on July 8 calling on Kosovo's parliament to declare independence and warning international bodies running the territory -- mainly the UN -- not to block the process.
Goran Bogdanovic, a leader of the Serbian List for Kosovo and Metohija party and a member of Serbia's negotiating team in Kosovo status talks, told RFE/RL the KLA's warning shouldn't be ignored.
"This threat should be taken seriously just because it is clear that the status of Kosovo will not be resolved in a short term," Bogdanovic said. "And it is clear that Albanians would use all means to achieve their goal. They will use verbal threats, they will create excesses to gain independence promised to them by their politicians, and we, Serbs in Kosovo, see it as another wave of ethnic cleansing."
Serbia and ally Russia oppose a UN plan to grant Kosovo supervised independence.
Final Status For Kosovo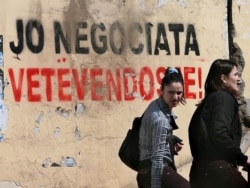 Pro-independence graffiti in Prishtina (epa)

FINALLY STATUS? Sabine Freizer, director of the Crisis Group's Europe Program, told an RFE/RL briefing that deep divisions in the UN Security Council make it uncertain what form Kosovo's future status might take.
LISTEN
Listen to the entire briefing (about 70 minutes):

Real Audio
Windows Media
ARCHIVE
RFE/RL's coverage of
Kosovo
. The website of
RFE/RL's South Slavic and Albanian Language Service
.