State Department spokesman Sean McCormack said on July 17 that any such meeting would be tightly focused on how to bring peace to Iraq and persuading Iran to stop giving aid to violent militias there.
"If there were to be such a meeting, then it would be an opportunity to directly convey to the Iranian government that their behavior in Iraq is not consistent with their stated public objectives for Iraq," McCormack said.
McCormack said Iranian activity in Iraq threatens not only the safety of U.S. forces there, but also the ability of the Iraqi government to establish security and stability for its people.
'Positive Role' In Iraq
A reporter asked McCormack if the United States believes Iran has increased its activities in Iraq since U.S. Ambassador Ryan Crocker met in Baghdad on May 28 with Iranian diplomats. McCormack declined to say whether there had been an increase, but said there hasn't been a decline.
While accusing Iraq of foul play in Iraq, McCormack briefly struck a conciliatory tone. He said that until recently, Iran has been helpful by not interfering with the efforts of the government of Afghan President Hamid Karzai to stabilize his country. McCormack said he hoped Tehran was finally prepared to do the same in Iraq.
"It could be helpful, it could be useful to be able to have that direct exchange and to convey a message once again directly to them. But we'll see. This is entirely dependent upon the Iranians and what they decide to do vis a vis Iraq," McCormack said. "We would hope that they would want to play a positive role in Iraq. They've stated that they want to play a positive role in Iraq, and they've demonstrated in other areas such as Afghanistan that they can -- should they wish to -- play a positive role."
Tensions Remain High
McCormack spoke only hours after Iranian Foreign Minister Manuchehr Mottaki told a news conference in Tehran that his country was willing to hold more talks with the United States. But he said the United States had yet to request a meeting.
Since the last face-to-face meeting, tensions have risen between Iran and the United States. Washington has been demanding that Iran release four Iranian-Americans who are being held on charges of endangering Iran's national security. U.S. officials say the charges are fabricated.
Iran, meanwhile, wants U.S. officials in Iraq to release five Iranians accused of training and equipping Iraqi Shi'ite fighters. Iran says the prisoners are diplomats.
McCormack was also asked if these issues, as well as perhaps Iran's nuclear program, might be topics at a meeting of U.S. and Iranian officials. He said no, and that the ground rules for this meeting would be every bit as strict as those for the meeting in May.
"As in past instances when we've discussed this, a couple things apply: One, it applies solely to Iraq. Two, it's not a negotiating channel," McCormack said.
McCormack declined to give details of how the two countries would go about setting up a meeting. In Tehran, Mottaki said a request for talks would go through official channels, indicating the Swiss Embassy in Tehran.
U.S.-Iranian Talks In Baghdad
U.S.-Iranian Talks In Baghdad
Some perspectives on the U.S.-Iranian talks of May 28, 2007, as expressed to Radio Farda.
Mehrdad Khansari, a former Iranian diplomat and analyst who is based in London: "Today the talks with the U.S. have begun but that does not mean that the talks will have reached a result. The Iranian and U.S. governments need to [tell] their audiences that they are not abstaining from talking to each other."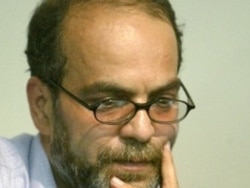 Tehran-based journalist Mashaollah Shamsolvaezin (pictured above): "There is a necessity that has forced the two countries to accept a series of new issues; these new issues are the talks that are going to begin between the two sides and I am hopeful about its future. The U.S. is facing serious [problems] regarding the situation in Iraq, from the other side is Iran facing some threats in the Middle East that come from insecurity in Iraq and also insecurity in Afghanistan. The seriousness of talks depend on the will of both sides and it seems that both sides are determined to seriously deal with issues, therefore I see a positive perspective for the Iran/U.S.talks."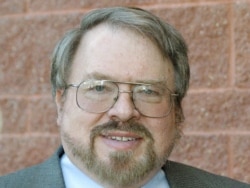 Ted Galen Carpenter, a U.S. foreign policy analyst at the Cato Institute in Washington (pictured above), says he believes the talks can help: "The United States is in a difficult position right now in that the current U.S policy in Iraq simply has not worked at all; and I think we are beginning to cast about for some alternatives and Iran can be at least modestly hopeful in that regard as long as we recognize that Iranian influence in Iraq is going to be inevitably much, much stronger than it was before."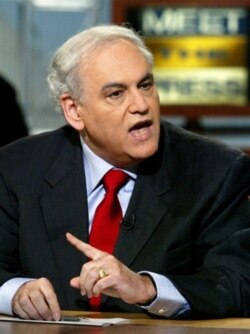 Richard Perle, a former Pentagon official (pictured above) who lobbied forcefully for a U.S. invasion of Iraq: "I don't believe [talking to Iran will] help because I don't believe there is any interest on the part of the mullahs in Tehran in changing the behavior of the government of Iran, which has been -- and I think will continue to be -- to encourage violence and disorder in Iraq."